Updated January 13,2023
Stainless steel cookware can be expensive. Prices vary widely, depending on the manufacturer and the materials used.
For instance, one set of the All-Clad aluminum core D5 line can cost two to three hundred dollars, while a set of cookware from Cuisinart can cost just $50.
However, if you're a cook who likes to mix and match, it can be cheaper to buy a complete set of stainless steel cookware.
Best Stainless Steel Cookware to Buy
When buying stainless steel cookware, the best thing to look for is a lifetime warranty. Most manufacturers offer lifetime guarantees against defects in material, structure, and workmanship, but this does not apply to abuse, normal wear and tear, thermal shocks, and drops. Make sure that you read the warranty's terms of service before you buy. Lastly, check if the cookware you're thinking of buying is dishwasher-safe.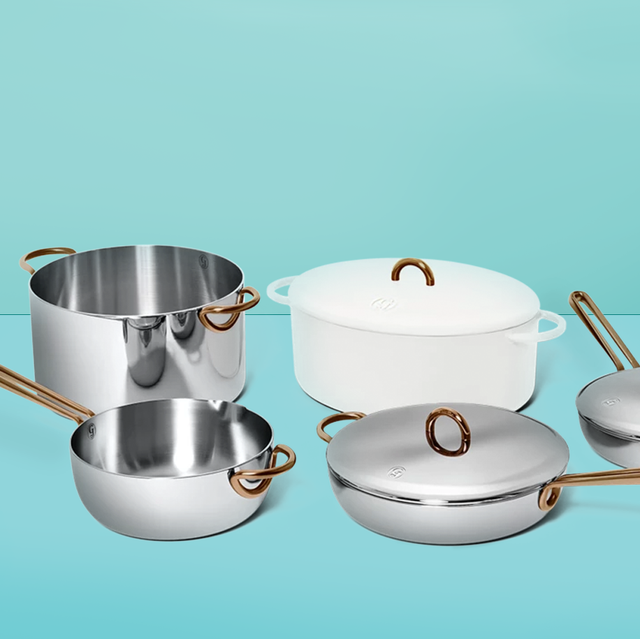 Based on our extensive testing and our expert input, these are the best stainless steel cookware sets:
What are the pros and cons of stainless steel cookware?
The pros: Stainless steel can handle screaming-hot temperatures and conducts heats evenly for foolproof cooking. Most stainless steel cookware has a core or interior made from aluminum for even heating. Stainless steel cookware also lacks a nonstick coating, which some people prefer.
The cons: Cleaning. Contrary to the name, stainless steel pans are prone to staining since food sticks to the surface more than other materials. We recommend stocking up on a great stainless steel cleaner such as Bar Keepers Friend if you want to keep them looking as gorgeous as they are out of the box.
1BEST OVERALL STAINLESS STEEL COOKWARE SETNanoBond Stainless Steel 5-Piece Cookware Set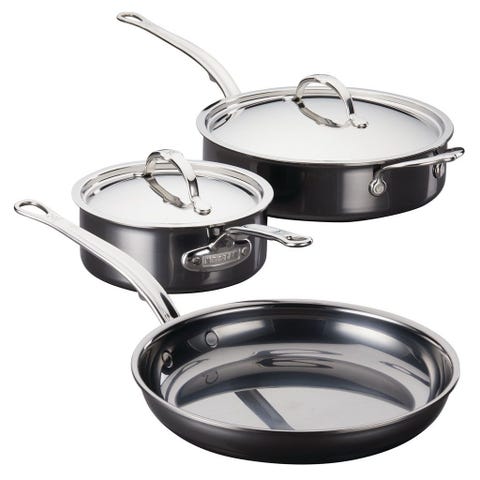 HESTAN
HESTAN
Highly durable
Extremely easy to clean
Stick-resistant
These pots and pans excelled in our tests. They're made of ultra-strong titanium bonded to stainless steel, which makes them super durable; plus, they're oven and broiler-safe up to 500ºF so you can use them for practically anything. Steak seared beautifully and evenly, while water came to a boil quickly and sauce maintained a steady simmer that washed right off.
After testing and using the frying pan consistently, we can confidently say that barely anything sticks to these pans (even though they're not nonstick!) and they're the easiest stainless steel pans to clean. Stubborn bits just required a soak versus a ton of elbow grease like others we tested. Their silver color deepens over time but can look like new again with their special cleaner.
2BEST VALUE STAINLESS STEEL COOKWARE SETStainless Steel 7-Piece Cookware Set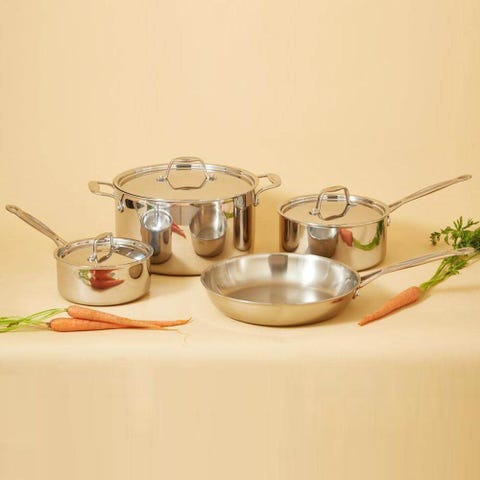 POTLUCK
GOLDILOCKS
Budget-friendly
Excelled in searing tests
Tri-ply design
Basic set may not include enough variety for some people
Goldilocks products are sold direct-to-consumer, so by eliminating the outside retailer they can sell top-quality cookware at a fraction of the price of many other pots and pans on the market. Their tri-ply (one layer of aluminum inside two layers of stainless steel) pieces heat super evenly, and the skillet was able to sear a steak evenly from edge to edge. This set includes all the essentials for a first-time cook or small kitchen. To step it up, check out their Essentials Bundle — you get 22 pieces for less than $300 (!).
3MOST STYLISH STAINLESS STEEL COOKWARE SETFamily Style Cookware Set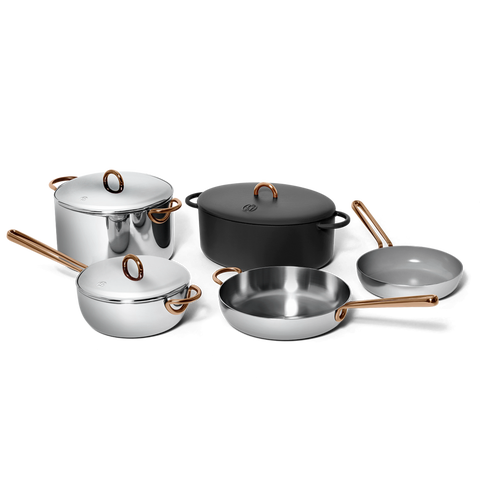 GREAT JONES
GREAT JONES
Versatile set
Pour spout for easy emptying
Measurement markings inside pot
Can be hard to clean when used with high temps
This set is both stylish and functional. It includes a small ceramic coated skillet, a fry pan with tall walls that can also be used for braising, a wide saucepan, a large stockpot and an oval-shaped dutch oven, which comes in an assortment of bold, yet muted, colors. Thoughtful design elements like a measurement markings inside the saucepan and a pour spout help this set stand out.
In our tests, the fry pan was able to sear steak well, and water came to a boil quickly in the saucepan. The handles were also comfortable to hold, though unique in its design, and they stayed cool during cooking. This set is perfect for new cooks looking to do it all – the price is hard to beat!
4BEST STAINLESS STEEL COOKWARE SET FOR BEGINNERSTriply Clad Stainless Steel 12-Piece Cookware Set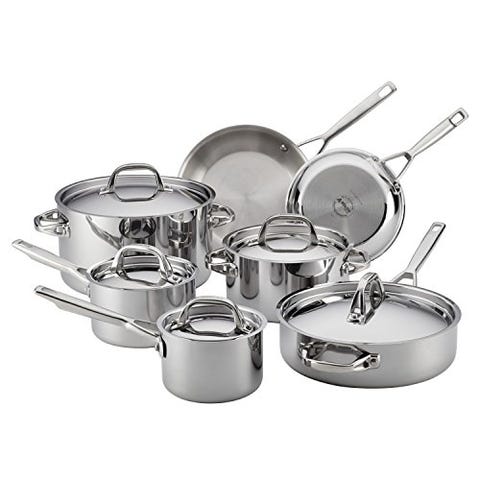 ANOLON
ANOLON
Sturdy and comfortable to use
Includes a good assortment of pots and pans
Because they heat quickly, use a lower temperature when starting off to avoid possible burning
Made from three layers of stainless steel and aluminum, these pots and pans heat quickly and evenly. They have thick handles that are easy to grasp and maneuver the pans with. The lid handles are tall and wide, which also make them easy to grasp, with or without mitts. The variety of pieces in this set make for a nice assortment for at a friendly price point. The smaller stockpot especially stands out for being a good size to make soups or sauces, or boil pasta for one.
5BEST STAINLESS STEEL COOKWARE SET FOR CHEFSStarter Stainless Steel 3-Piece Cookware Kit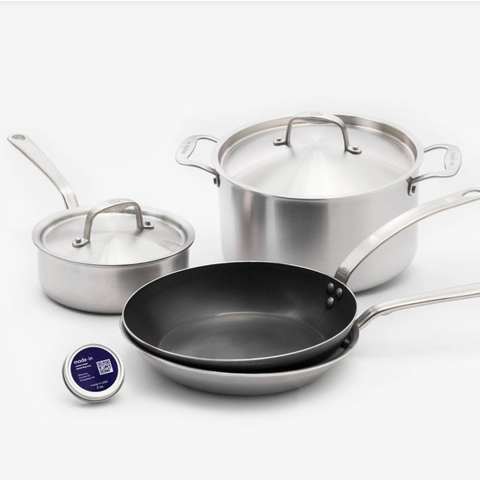 MADE IN
MADE-IN COOKWARE
Includes 3 basic pots and pans
5-layer construction is durable and conducts heats well
Heavy
Carbon steel requires more maintenance
Made-In's solid pots and pans are five-ply, meaning they're made with five layers of stainless steel and aluminum, so they heat evenly and are super durable. They're oven safe up to 650ºF and can be use on induction cooktops, too. This smaller set comes with three cookware essentials: A 10-inch skillet, 2-quart saucepan, and 5-quart stock pot with lids. It also includes a carbon steel skillet, which is a lighter version of a cast iron skillet that heats quickly and reaches roaring temperatures.
6BEST HIGH-END STAINLESS STEEL COOKWARE SETD5 Brushed Stainless Steel 5-Ply 10-Piece Cookware Set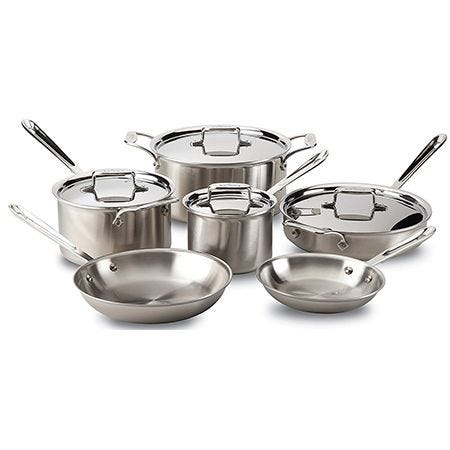 ALL-CLAD
ALL-CLAD
Top-of-the-line design
Includes five layers of steel and aluminum
All-Clad's D5 line features five alternating layers of stainless steel (for top-notch durability) and aluminum (for even heating). They're top-quality with strong, angled handles that stay cool and tight-fitting lids. Their 18/10 stainless steel interior helps with sticking and the exterior is brushed, which helps eliminate fingerprints. All-Clad's pots and pans have excelled in previous Kitchen Lab tests, with saucepans that boiled water quickest and frypans that offer quick, even heating.
7EASIEST-TO-CLEAN STAINLESS STEEL COOKWARE SETStainless-Steel 10-Piece Set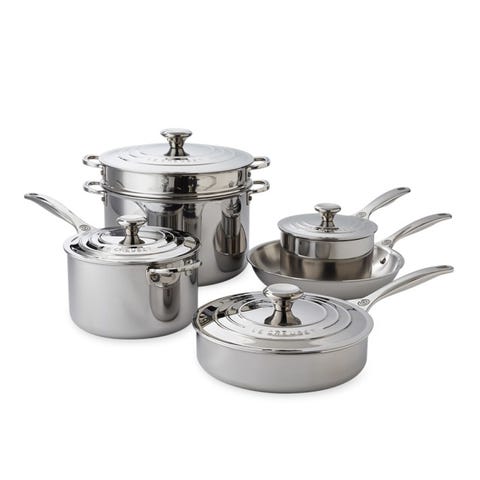 LE CREUSET
LE CREUSET
Sturdy design
Comfortable to hold and move around
Only includes one 10″ frying pan
With Le Creuset's Stainless Steel cookware, you can crank up the heat and brown a batch of sirloin steaks to perfection. The beautiful pieces haveridged lids to match the company's iconic cast-iron pots and pans, as well as round knobs and thick handles for easy handling. The set is also stick- and stain-resistant and infused with titanium so it will keep its good looks for years to come. For a set with two nonstick pans, consider the 12-piece set, which includes an 8-inch and 12-inch nonstick skillet. (The 10-inch performed the best in our nonstick skillet test!)
Stainless Steel Cookware Sets Clearance
If you're looking for a set of stainless steel cooking equipment, you've come to the right place. These sets are versatile and durable, so you can use them for breakfast dishes like shakshuka to evening meals like creamy tomato risotto. And because they are made from a metal that is both hard-wearing and easy to clean, there's sure to be a stainless steel set that meets your specific needs.
Versatility
When choosing a stainless steel cookware set, versatility is a critical consideration. Cookware made of a durable metal with an even distribution of heat is more likely to keep food moist and prevent stains. In addition, these cookware pieces are safe for the oven and dishwasher. For convenience, stainless steel cookware sets feature pour spouts and straining lids. Additionally, the material's thermal conductivity makes pouring easy.
Durability
Stainless steel cookware is extremely durable and can withstand heat well. Its high melting point and hard outer layer make it more resistant to scratches and chips than other metals. Unlike nonstick cookware, which scratches easily, stainless steel is built with multi-ply construction. When heated, this material becomes harder, resulting in an even cooking surface. Stainless steel cookware is also dishwasher-safe, making cleanup easier.
Price
If you're looking for a stainless steel cookware set but can't afford the full price, consider buying a stainless steel set instead. These cookware sets are made to last, and they are very versatile. You can even find sets on clearance at Amazon.com. Whether you need a larger pot for roasting chicken or a small saucepan for sauteing shrimp, stainless steel sets are ideal.
Quality
Looking for a quality stainless steel cookware set? If so, you've come to the right place. From morning dishes like shakshuka to evening meals like creamy tomato risotto, stainless steel is an essential kitchen appliance. The high-quality material will withstand heat and the rigors of everyday use, making it ideal for home chefs and professional chefs alike. Quality sets are usually easy to clean and can withstand a wide variety of uses, making them a great choice for any kitchen.
Lids
Stainless steel cookware sets feature multi-metal bases to maximize heat distribution, retain heat, and control. Each set includes a 1.25-quart saucepan, a 2.5-quart sauce pan, an 8-inch French skillet, a 10-inch French skillet, and a 3-quart saute pan with lid. You can even use the stainless steel pots in the oven, so you can cook your favorite foods without worrying about sticking.
Handles
While looking for a new set of stainless steel cookware, you might be tempted to just stick with what you have, but handles are an important part of any set. You need to make sure that you choose ones that have riveted handles instead of those that are spot welded. While spot welded handles are more likely to come off under heavy use, riveted handles are much more secure. And you can even use these sets in the oven.
Grade
While it's not easy to tell exactly which type of stainless steel cookware to buy, you can get an idea by observing the various types of stainless steel sold in stores. The most common stainless steel cookware grades are type 304 and type 316. The difference between the two is in the percentages of chromium and nickel. A high quality 18/10 cookware set will resist rust and retain a shiny appearance.
Best Stainless Steel Cookware Without Aluminium
If you're wondering what the benefits of stainless steel cookware without aluminium are, keep reading. These types of pans are non-reactive, dishwasher safe, and nickel-free. Despite the fact that steel conducts heat poorly, it's far superior to aluminium for the reasons listed above. In addition, stainless steel is less prone to rust, warping, and pitting than aluminum.
Stainless steel cookware is non-reactive
Stainless steel cookware is durable and rust-free. Its non-reactive nature prevents it from reacting with any food or chemical. Moreover, its lustrous surface doesn't tarnish or corrode, allowing you to use it in different ways for preparing your favorite dishes. Moreover, stainless steel cookware doesn't absorb water, which helps in fast and even heating. Its non-reactive nature also helps you preserve the flavors of the foods you cook.
It is non-sticky
This set of three skillsets features a stainless steel surface that prevents food from sticking to the pan. The non-stick surface is also resistant to acidic foods, and the lids are made of stainless steel to minimize the risk of breaking. The cookware is dishwasher safe and oven safe up to 600F. The set also has a 5.3-quart capacity, so you can cook more at once without worrying about overflowing.
It is dishwasher safe
When looking for the best stainless steel cookware without aluminium, there are several factors to consider, including the type of material and the brand. The best stainless steel cookware for the home is made from AISI 430 stainless steel, which is highly conductive to heat, which means it will heat up quickly. Another plus is that it is non-stick, which means it will not release harmful chemicals into your food. These cookware items are also dishwasher safe and feature a tri-ply construction.
It is nickel-free
Stainless steel cookware that is nickel-free is a safe choice for those with a nickel allergy. While nickel is an important metal, it's not necessary to our bodies. A recommended daily intake of chromium is 35 mg for men and 25 mg for women. If you're allergic to nickel, you may want to consider stainless steel cookware that doesn't contain nickel.
It is high-heat conductive
Stainless steel cookware has many benefits. This type of cookware is resistant to acids, so it won't react with your food. This material is also dishwasher safe and oven and broiler-safe. Moreover, it is environmentally friendly, as it doesn't contain any toxic coating that can leach into your food. It also heats up quickly, and uses less energy than other types of cookware.
It is safe for your health
Stainless steel is an extremely durable material that does not leach chemicals or heavy metals into your food. Exposure to these chemicals and heavy metals may contribute to health problems such as cardiovascular disease, cancer, and diabetes. In addition, aluminum can react with certain acids and give food a metallic taste. While small amounts of aluminium are fine, the higher levels can pose health risks, including Alzheimer's Disease.
It is durable
Stainless steel is a very durable material, and unlike aluminum or copper, it does not corrode or break over time. Stainless steel cookware is also very versatile and will work well for frying, boiling, braising, stewing, and frying. Stainless steel is also very durable, and can withstand extremely high temperatures and the high heat of a pan without the risk of warping.
Safest Stainless Steel Cookware
In this article, we will discuss the benefits of using safe stainless steel cookware, including its non-reactive surface and eco-friendly treatment. As a result, these products are a healthier choice for the environment. Nickel is a trace mineral that is also non-reactive, and Stainless steel is non-toxic and durable. Nickel also has no impact on the flavor of food cooked with this material, making it a safer choice for everyday use.
Nickel is a trace mineral
Stainless steel cookware can leach nickel and chromium into food. While these trace minerals are necessary micronutrients, too much of them can be harmful. The Tolerable Upper Intake Level for nickel has been set at 1000 ug/day. Most people get their daily allowance of nickel from food and water. However, some foods are naturally high in nickel, such as chocolate. If these foods are cooked, nickel will be removed by the kidneys and passed out of the body quickly.
Stainless steel is non-reactive
If you're worried about food poisoning, you're not alone. Stainless steel cookware has many benefits, but it's not without its drawbacks. A non-reactive surface, a non-reactive material, can be cleaned without the risk of corrosion. And, unlike copper, which can leave a bitter metallic taste if it's not lined with a non-reactive surface, stainless steel won't rust or corrode.
It is durable
Stainless steel cookware is often stamped with a number indicating the grade of the metal. The most common type of stainless steel used in cookware is 18/10, which contains 18 percent chromium and 10 percent nickel. This alloy is highly resistant to rust and retains a glossy finish. Make sure that your cookware is marked with this number. Otherwise, you will risk buying inferior cookware that will warp or break easily.
It is non-toxic
You may wonder if it's safe to use a piece of stainless steel cookware with certain types of food. The truth is that it's actually safer than most other types of cookware. The best way to find out is to read the manufacturer's notes. You can avoid toxic cookware by looking for non-toxic options. In addition to non-toxic materials, these types of cookware also have a satin finish. In addition, they're dishwasher-safe and magnetic. Plus, they have stay-cool handles that give you good leverage and balance when lifting a pot or pan.
It is easy to clean
Stainless steel is a durable material, which makes it easy to clean. Weekly or biweekly cleaning is enough, although touch-ups are necessary for aesthetic purposes. The stainless steel material is easy to sanitize and polish with a simple, at-home cleaning solution. You can choose to use a microfiber dish towel to polish the stainless steel surface. This cloth should leave no lint behind.
Stainless Steel Pots and Pans Set
When you are searching for a cookware set, consider a quality Stainless Steel Pots and Pans Set. Stainless Steel is an upscale material for cookware that offers durability and even heating. Higher-end stainless steel cookware is much more expensive but you will get many years of use from these pieces. However, you need to be aware of some precautions when using stainless steel pots and pans.
Le Creuset Stainless Steel Pots and Pans
The Le Creuset Stainless Steel Pots & Pans Set is made from premium Stainless Steel, which is known for its durability and beauty. Its durable, nonstick surface is perfect for a variety of cooking needs. Its tri-ply design provides even heat distribution for superior cooking results. This set is incredibly easy to clean and will not discolor. Its high-quality construction and long-lasting finish makes it an excellent choice for any kitchen.
The 10-piece Stainless Steel Set includes three essential pots with lids. It includes a ten-inch fry pan, a two-quart saucepan, a 3-quart saute pan, and a seven-quart stockpot. The three-layer design prevents food from sticking to the pans while cooking, so you'll never need to worry about spills. The rimless design of the pans means they slide smoothly when stacked. For easy cleaning, you can use a pot to rinse and store other pots.
Calphalon Stainless Steel Pots and Pans
The Calphalon Stainless Steel Pots and Pants Set offers you everything you need for the kitchen. Its cookware set includes stainless steel pans and pots with fitted lids, silicon-wrapped handles, and a cutting board. It also has a knife block and mixing bowls that are convenient for meal prep. This set will save you time and space while making cooking easier.
The Calphalon Stainless Steel Pots and Pants Set features a variety of sizes and styles. Each piece is designed to provide even heat distribution and is dishwasher and oven safe up to 500 degrees. It also includes a heavy-gauge aluminum core and an impact-bonded aluminum base for durability. It also features measuring marks and pour spouts. The Tri-Ply collection is also dishwasher safe.
Calphalon Stainless Steel Roaster
If you love the classic style of a KitchenAid roaster, you'll want to check out the Calphalon Stainless Steel Roaster. This roaster is about the same size and weight as its KitchenAid counterpart, and it also features a dishwasher-safe nonstick rack. This roaster also has a lifetime warranty. However, if you're worried that you won't be able to use it for decades, don't be. This roaster is dishwasher-safe and features contoured handles.
This roaster has a double-layer stainless steel exterior and a full aluminum inner core. This ensures even heating and superior heat retention, and its stainless steel body will not warp, buckle, or crack. Its nonstick rack makes cleanup a breeze. While the roaster is non-stick, it does tend to degrade when used with metal utensils. If you want a longer-lasting roaster, you might want to consider investing in a metal roaster.
Calphalon Stainless Steel Dutch Oven
The elegant brushed stainless-steel exterior is beautiful and practical, making this Dutch oven perfect for every kitchen. The aluminum core between two layers of stainless steel allows for even heating, excellent browning, and complete control over the cooking process. The non-porous stainless steel cooking surface is safe for all types of utensils. You can also use this Dutch oven as a tabletop accessory thanks to its reflective cook surface.
The Calphalon Stainless-Steel Dutch Oven features an impact-bonded aluminum base for maximum durability and even heating. Secure comfort-grip handles make transitioning from stovetop to oven a breeze. A tempered glass cover protects the food from heat and keeps the oven clean. The Calphalon Dutch Oven is dishwasher-safe, making it easy to clean. It can be used in an oven, gas range, electric range, or halogen, so there's no need to worry about its compatibility.
Costco Stainless Steel Cookware
In this article we'll discuss the differences between Kirkland Signature Stainless Steel 3-Ply Clad, 5-Ply Clad, and Tri-Ply Clad Cookware sets. Each type has their own advantages and disadvantages. We'll also talk about what to look for in each type. In the end, we'll recommend the cookware that's right for your needs. And, most importantly, enjoy cooking with it!
Kirkland Signature
Kirkland Signature cookware is a brand of high-quality stainless steel cookware. The brand is manufactured by Costco in Kirkland, Washington. The company sells both cast iron and nonstick cookware. Their stainless steel cookware is the most popular choice among consumers. Consumers have praised the product for its performance, durability, and easy-cleaning properties. Kirkland Signature cookware is also sold at various retail stores, including Costco.
The cookware sets by Kirkland are made with premium quality materials and are backed by lifetime limited warranty. They are layered with a nonstick Teflon Platinum Pro non-stick coating for easy cleaning and superior temperature retention. Unlike other non-stick coatings, these cookware sets do not require seasoning or chemical treatments to maintain their excellent quality. The resulting food will always be tender and tasty.
Kirkland Signature Stainless Steel Tri-Ply Clad Cookware
The Kirkland Signature Stainless Steel 10 Piece Cookware Set is designed for light usage in the kitchen and is oven safe up to 204 degrees. It includes all the tools for effortless cooking. The cookware is made from five-ply stainless steel and copper. The set includes a 7.5 quart stockpot and 2.8 liter saucepan with lid. If you are looking for a set that will last for many years, you may want to consider a Kirkland Signature 10 Piece Cookware Set.
These cookware sets are made from high-grade 18-/10 stainless steel and feature an aluminum core. This ensures fast heating and minimizes hot spots. In addition, the heavy-duty lids seal moisture in for faster cooking and better flavor absorption. You can get the best of both worlds with this cookware set. Kirkland Signature Stainless Steel Tri-Ply Clad Cookware at Costco
Kirkland Signature Stainless Steel 3-Ply Clad Cookware
You can find this premium brand of Kirkland cookware at Costco. They are normally only sold at Costco stores, but you can also find them on Amazon. They are hard-anodized, so you can be sure they're made of the highest quality. You can purchase Kirkland Signature cookware at Costco and enjoy a price break, too.
This cookware set comes with a lifetime warranty and three sizes. The cookware is also made of 18/10 stainless steel and pure aluminum, with an aluminum core that extends through the sides and bottom. This helps with efficient heat transfer. These pans are also Italian-made and have flared edges that make pouring easy. They are safe to bake at 550 degrees Fahrenheit and are ANSI/NSF-certified.
Kirkland Signature Stainless Steel 5-Ply Clad Cookware
If you're looking for a new set of cookware, the Kirkland Signature Stainless Steel 5-Pyly Clad Cookware is a great option. This set is made from high-quality stainless steel with an aluminum core for fast heating. This means no hot spots, and the multi-ply construction ensures optimal performance. Not only is it great for cooking, but it also feels good to hold and pour!
The glass tempered lids help lock in moisture for faster and more flavorful meals. Plus, you'll enjoy the view of your cooking process. If you need a skillet to go along with your Kirkland cookware set, this one comes with a skillet for more versatility. The non-slip, tapered handles are easy to grip and don't get hot.
Viking Stainless Steel Cookware
If you're looking for professional-style results, you'll want to consider Viking's 3-Ply Stainless Steel Cookware. It features an induction-compatible mirror-finish stainless steel exterior, followed by a functional layer of aluminum alloy and a final layer of high-quality 18/10 stainless steel on the inside. It also boasts a lifetime warranty and is oven and microwave-safe. If you're thinking about buying a new set, consider these pros and cons:
Tri-Ply Stainless Steel
With the Tri-Ply technology, Viking cookware provides optimal heat transfer. This stainless, mirror finish, magnetic exterior cookware is compatible with all types of cooktops. The thick aluminium core transfers heat quickly. This cookware is suited for both stovetops and induction cooktops. Its sturdy design makes it easy to clean, and the stainless exterior provides a snag-free grip.
While many cookware brands offer stainless steel pots and pans, none can match the durability and high-quality of Viking cookware. This luxury set includes two skillets and two saucepans, each with a lid. You'll also receive a sauté pan, stockpot, and steamer insert. The set is aesthetically appealing, with copper handles to complement your kitchen's decor. Its professional-grade features will make you want to cook with it!
Hard-Anodized Nonstick
The Hard-Anodized Nonstick range by Viking is a fantastic addition to your cookware arsenal. This hard-anodized cookware is made with three layers of nonstick that are PFOA free and offer optimal release and durability, even when using metal utensils. This range of cookware is designed with comfort in mind and includes cast stainless steel handles. It's also dishwasher-safe and has a limited lifetime warranty.
These frying pans can handle up to four pounds of weight and are great for cooking eggs and other egg dishes. The nonstick surface of the top exterior is very easy to clean. These pans are a wonderful addition to any kitchen and won't break your budget. You can find many pieces of this cookware on Amazon for under $100. These pans are great for a variety of cooking applications, and you can find a wide variety of open stock pieces on Amazon.
Microwave oven safe
The high quality of Viking stainless steel cookware has many benefits. Not only is it dishwasher safe, microwave oven safe, and tempered glass lids are great features, but it's also lightweight and durable, making it easy to handle and store. It also features magnetic straps on the glass lids, so heat is kept in and food stays moist. This ensures your cookware will last for many years and you can be confident that it will keep your food safe and delicious.
The five-ply construction of Viking professional cookware ensures a durable, non-reactive surface and maximum heat transfer. The resulting food stays moist and tender without burning, while the five-ply construction helps retain flavor without releasing chemicals that can damage your health. Because of its stainless steel exterior, the Viking cookware is dishwasher safe and induction ready. It also features ergonomically-designed handles to help you stay balanced and maintain leverage while using your cookware.
Lifetime warranty
The Viking Stainless Steel Cookware Lifetime warranty offers a full replacement of the cookware and covers defects in material and workmanship. This warranty covers the lifetime use of the cookware and includes a variety of other features. This cookware has a 7-ply titanium cooking surface, unlike clad stainless cookware. Though some consumers are led to believe that titanium is a nonstick material, it is just as sticky as stainless steel.
The 3-ply line is made in the United States, while the Professional line is made in China. The Professional series offers a lifetime warranty. Some Viking cookware pieces come with stainless lids, while others are made of glass. All-Clad cookware is manufactured in the United States. Viking's Professional and Contemporary lines are made in the United States, though their hard-stainless cookware is made in China.
FAQs
What is the best stainless steel cookware brands?
When it comes to buying stainless steel cookware, you need to choose the best brand possible. The following list of the best brands includes: All-Clad, Lodge, and Calphalon. Each brand has a different reputation and has its own strengths and weaknesses. Consider each brand's reputation when purchasing your next set of cookware. For example, All-Clad's D5 cookware has a higher price tag than its counterpart, the D3, but the performance difference is minimal. The D3 line is also made in the USA and comes with a lifetime warranty. For this price, you can get a seven-piece set of cooking utensils.
What is the safest stainless steel cookware?
When it comes to stainless steel, there are a few different grades available. The most popular ones are 18/10 and 18/8, which are layered and contain at least 18 percent chromium. The most expensive type is 18/0, which is completely made of chromium. The reason you need to look for a high chromium content is that it will last longer and be more durable.
What is best thickness for stainless steel cookware?
The first question to ask is what is the best thickness for stainless steel cookware? Stainless steel cookware comes in many different grades, each with different characteristics and price points. The best grades are 18/8 and 18/10, which offer the most corrosion resistance. For a less expensive option, you can consider 18/0, which is magnetic for induction cooktops and is ideal for heavy use such as in high-traffic or casual restaurants. Each piece of stainless steel cookware is accompanied by a grade number that denotes the percentage of nickel and chromium it contains.
How do I choose a stainless steel cookware?
There are a few things to look for when selecting a stainless steel cookware set. For instance, you want to choose a product that will give you better results and is built to last a long time. You should also look for quality construction. This quality is usually broken down into three categories: cladding, material, and handle. It is also important to choose a cookware set that is easy to clean.
Final Thoughts
If you're new to cooking with stainless steel, you're probably wondering, "What's the best stainless steel cookware to buy?" Generally speaking, stainless is the best option. It's easy to clean, and its weight and rounded handles make it comfortable to hold while you cook. The good news is that stainless is also relatively safe. It doesn't tarnish, and it conducts heat well.