Le creuset cookware is a high-end and top-rated brand in the cookware industry. The brand offers premium-quality cast iron and other cookware products that are known for their durability, heat retention and distribution, and unique designs.
As a brand that has been in existence since 1925, le creuset cookware has become a go-to for top chefs, home cooks, and foodies worldwide. With their dedication to quality and innovation, the brand has earned a reputation for producing cookware that is not only aesthetically pleasing but also functional and durable.
In this le creuset cookware review, we will take a closer look at the brand's history, product lines, unique features, and what sets its cookware apart from the rest. We'll also explore some of the pros and cons of using le creuset cookware to help you determine whether it's worth the investment.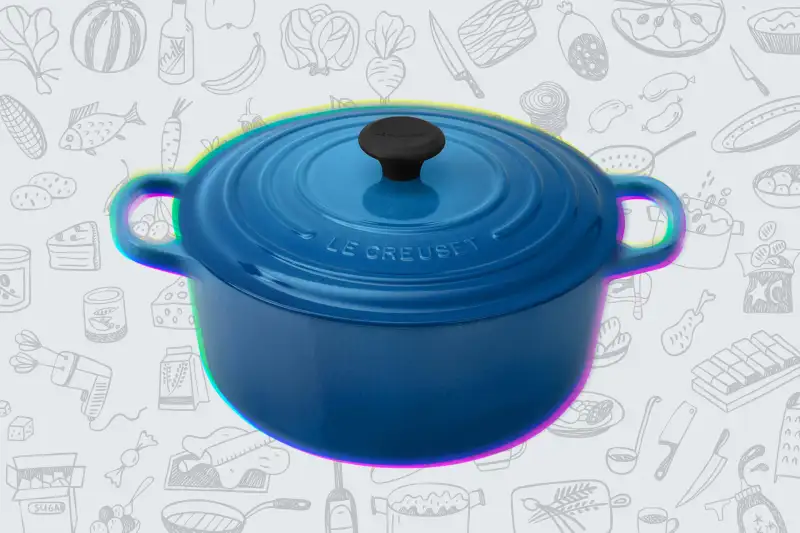 Credit: money.com
Design And Durability
Overview Of Le Creuset'S Design Features
Le creuset is well-known for its distinctive and beautiful design, with its signature colors, and a shape that has been iconic for generations. The aesthetic of le creuset cookware is not just all about looks, as it also enhances the cookware's features and performance.
Here are some of le creuset's design features that set it apart from others:
Enameling technique: Le creuset's signature cast iron cookware is covered with a thick enamel layer that offers durability, easy maintenance, and versatility to cook on different stovetops.
Wide range of colors: One of the many things that sets le creuset apart is its range of eye-catching colors that enables the cookware to double as a beautiful serving dish.
Ergonomic knobs and handles: Le creuset cookware has handles and knobs that are ergonomically designed to ensure a comfortable grip and reduce the risk of burn or injury.
Tight-fitting lids: Le creuset's tight-fitting lids create an efficient cooking system that helps to trap the steam in the pot and cook food evenly.
Detailed Discussion Of The Quality Of Materials Used
Le creuset's signature cookware is made from cast iron coated with enamel. Cast iron is an excellent material for cookware due to its ability to absorb and retain heat, which ensures even cooking. The enamel coating provides a non-stick layer that makes cleaning the cookware a breeze and adds to its durability as well.
Here's what makes le creuset materials stand out:
High-quality cast iron: Le creuset only uses premium quality cast iron that is incredibly durable and resistant to cracking, chipping, or warping.
Non-reactive enamel coating: The enamel layer is a non-reactive surface that does not alter the taste of the food and neither does it absorb odors.
Highly-durable glaze: The enamel glaze on le creuset cookware is resistant to scratches, chips, and fading, which is an assurance for a long-lasting performance.
Assessment Of Durability And Long-Term Performance
Le creuset cookware has been known to withstand the test of time, and its cast iron cookware can last a lifetime if well maintained. Le creuset's cookware is ideal for the kitchen because of its ability to retain heat, allowing you to cook meals that are evenly cooked with minimal effort.
Here's what makes le creuset cookware the perfect investment:
Long-lasting quality: Le creuset cookware can last a lifetime, making it a worthwhile investment that will save you money in the long run.
Versatility: Le creuset cookware can be used on a variety of stovetops, making it a versatile option in the kitchen.
High resistance: Le creuset has been tested and proven to be highly resistant to scratches, chips, and stains, making it easy to clean and maintain.
Comparison With Similar Products In The Market
When compared to other cookware brands in the market, le creuset stands out for its aesthetic appeal, functionality, and durability. The competition is stiff, but le creuset's quality speaks for itself. Here is how le creuset measures up against similar products in the market:
Durability: While some brands claim to be highly durable, le creuset has proven to be superior in this aspect, thanks to its high-quality materials and rigorous manufacturing standards.
Versatility: Although many brands can be used on different stovetops, few can beat the versatility of le creuset cookware. It is ideal for a wide range of cooking methods, including baking, broiling, and even grilling.
Aesthetic appeal: Le creuset comes in a wide variety of colors that make it easy to brighten up your kitchen. Other brands may offer color options but nothing comes close to the iconic and timeless colors of le creuset cookware.
If you're a home cook searching for a cookware brand that offers style, durability, and functionality, then le creuset is worth the hype. Its beautiful design, premium quality materials, and excellent craftsmanship make it a kitchen essential for any home cook or professional chef.
Performance And Cooking Experience
How Le Creuset'S Design Affects Cooking Experience
One of the most distinctive features of le creuset cookware is its design, which has a significant impact on the cooking experience. Here are some key points to consider:
The heavy enamel coating on le creuset cookware retains heat better than other types of cookware, which means foods cook evenly and retain moisture. This feature also helps with browning, which adds flavor to foods.
The cast-iron material is perfect for making stews and braises, as it distributes heat evenly and retains heat for a longer time, which results in tender and flavorful dishes.
Le creuset's range of colors and designs also make them great for oven-to-table serving, and the porcelain enamel coating on the cookware makes cleaning easy and convenient.
Discussion Of Heat Retention And Distribution
Le creuset's heat retention and distribution are significant factors that make their cookware worth the hype. Here are some key points to consider:
The cast-iron material used in le creuset cookware is known for its exceptional heat distribution and retention capabilities. This feature ensures even heating, which provides consistent results, making it perfect for searing, frying, sautéing, and baking.
The enamel coating on le creuset cookware preserves the heat and moisture of the food, making it more flavorful, tender, and juicy.
Le creuset cookware can be used on all cooktop surfaces, including induction, and can be used in the oven or under the broiler.
Comparison With Other Cookware Brands In Terms Of Performance
When compared to other cookware brands, le creuset's performance is exceptional, making it worth the investment. Here are some key points to consider:
Le creuset's premium cast-iron construction and enamel coating make it durable and long-lasting compared to other cookware brands.
Le creuset cookware's heat retention and distribution are superior to other well-known brands in the market, making cooking a more enjoyable experience.
Le creuset's range of colors and designs add an element of style to the kitchen, adding to its appeal. Additionally, the cookware's easy-to-clean surface is a significant advantage over other brands that require rigorous scrubbing to remove food residues.
Evaluation Of Cooking Results Achieved With Le Creuset Cookware
Le creuset cookware's performance stands out when it comes to cooking results. Here are some key points to consider:
Le creuset cookware produces deliciously tender and flavorful dishes due to its heat retention and moisture preservation capabilities.
The cookware's heavy enamel coating makes it perfect for browning meats, cooking stews and casseroles, and roasting vegetables.
Le creuset's signature dutch oven is an all-time favorite for preparing soups, stews, and pot roasts that require a low and slow cook, ensuring the even and juicy cooking of the dish.
Le creuset cookware is, without a doubt, an exceptional investment for any home cook. Its superior design, heat retention and distribution, comparison to other brands, and cooking results make it worth the investment.
Range And Versatility
Le Creuset Cookware Review: Is It Worth The Hype?
When it comes to cookware, le creuset is a brand that has been favoured by cooks for almost a century. Its reputation for quality and craftsmanship draws many home chefs to invest in a piece of their cookware. We will review le creuset's product lines, specifically focusing on the range and versatility of their cookware.
Overview Of Le Creuset'S Product Lines
Le creuset offers a wide range of products for every cooking need:
Cast iron cookware: Their signature product line, le creuset's cast iron cookware is perfect for braising, roasting, baking, frying, and sautéing. With its thick, even base, it ensures even heat distribution, resulting in a perfectly cooked meal every time.
Stoneware: Le creuset's stoneware line is ideal for cooking casseroles, roasts, pies, and desserts. It's also suitable for use in the microwave and freezer.
Stainless steel: If you're looking for a more modern-style cookware, le creuset's stainless steel collection is for you. It is perfect for delicate sauces, boiling pasta, frying eggs, and even cooking rice.
Non-stick cookware: Le creuset's non-stick cookware range is designed to make cooking and cleaning easier. Ideal for cooking eggs, pancakes, and fish that can stick to the bottom of the pan.
Accessories: Le creuset also offers a range of kitchen accessories like silicone utensils, wine openers, and kitchen aprons.
Explanation Of Product-Specific Features And Uses
Each le creuset line of cookware has its specific features and uses. Cast iron cookware is perfect for slow-cooking meats, sautéing vegetables, and frying chicken. Stoneware is excellent for baking lasagne, pies, and baking desserts. Stainless-steel cookware excels at boiling pasta, making risotto, sauces, and stir-frying.
Non-stick cookware is ideal for cooking eggs, pancakes, and searing fish. Le creuset's kitchen accessories are made with the same quality and material, providing consistency and durability.
Discussion Of Interchangeability And Compatibility Within The Product Range
One of the best things about le creuset's cookware is the compatibility within the product range. Each product line adheres to the same specifications, ensuring it blends seamlessly with older versions of the product. For example, a cast iron skillet from the '60s will work just as well with your new cast iron pot.
The interchangeable lids and cookware help reduce clutter in the kitchen, as the pieces can be used across multiple ranges.
Comparison With Other Brands In Terms Of Range And Versatility
When compared with other brands in the market, le creuset offers a wider range of product lines with superior built quality. Their cast iron cookware range is unrivalled in terms of versatility and durability, whilst newer ranges like non-stick and stainless-steel offer modern style cookware with excellent performance.
Other brands tend to focus on a particular range, like cast iron, but le creuset offers multiple ranges catering to different cooking needs.
Le creuset's product ranges are built to last and offer versatility in the kitchen while adhering to the highest quality standards. Investing in le creuset cookware is worth the hype, and it will last a lifetime if taken care of correctly.
Pricing And Value For Money
Le Creuset Cookware Review: Is It Worth The Hype?
Le creuset cookware has been the go-to kitchen brand for many cooking enthusiasts since the early 1920s. The brand's reputation for providing quality and long-lasting cookware has made it one of the most trusted names in the market. However, with great quality comes a hefty price tag.
In this post, we will delve into the pricing strategy, value for money, and whether the brand is worth the premium price.
Analysis Of Le Creuset'S Pricing Strategy
Le creuset's pricing strategy is heavily focused on their brand's reputation for quality and excellence. The company uses premium materials and advanced technologies to craft their products. This means that le creuset's cookware is priced higher than its competitors to reflect its superior quality.
However, to maintain its reputation, the company must continually innovate and come up with new ideas to keep its pricing strategy justifiable to its customers.
Comparison With Other Brands In Terms Of Pricing
Le creuset cookware is generally more expensive than its competitors. Brands like lodge, calphalon, and cuisinart offer similar products and durability at a lower price point. While le creuset's products are of a higher quality, depending on a buyer's budget, they may find it challenging to justify the high price tag.
However, for those who prioritize brand reputation and quality above all else, le creuset cookware delivers.
Assessment Of The Value For Money Offered By Le Creuset Cookware
When investing in le creuset cookware, buyers base their decision on the value it will bring to their everyday cooking routine. The advanced technologies, premium materials, and long durability offered by le creuset cookware justify the high price point for many buyers.
For some, it may not be the value for money they are looking for, but for those seeking a premium cooking experience, le creuset provides just that.
Discussion Of Whether The Brand Is Worth The Premium Price
Le creuset cookware is undoubtedly worth the premium price for buyers who prioritize quality and brand reputation over price tags. The company's innovative techniques, advanced technologies, and superior quality make it a top choice for many cooking enthusiasts. However, for those who don't value brand reputation or do not have the budget for it, le creuset may not be worth the investment.
While le creuset's cookware has a high price point, the brand delivers on its promise of superior quality and durable products. It's worth the investment for those who prioritize brand reputation and quality over a lower price tag, while for others, lower-priced options might offer better value for money.
It's up to the buyer's personal preference, but le creuset offers a unique cooking experience for those able and willing to invest in it.
Frequently Asked Questions Of Le Creuset Cookware Review
How To Clean Le Creuset Cookware?
Cleaning le creuset cookware is quite simple. Hand-wash the cookware with warm, soapy water then rinse. Stubborn spots can be removed by soaking, or use a non-abrasive cleanser made of baking soda and water. Avoid using steel wool, bleach, or abrasive cleaning products.
Dry the cookware completely before storing it.
Can Le Creuset Cookware Go In The Oven?
Yes, le creuset cookware is oven safe. Most le creuset products can handle oven temperatures up to 500°f. Some products are even safe under the broiler. Refer to the care and use documentation that comes with your package or see the le creuset website for specific oven-safe temperature ranges for your cookware.
Are Le Creuset Products Worth The Price?
Yes, le creuset products are worth the cost for their quality. Le creuset is known for its beauty, durability, and versatility. The quality of materials and craftsmanship involved in each product's manufacturing ensures you get what you pay for, plus additional benefits such as easy cleaning and extended durability.
If you are looking for an investment in cookware, le creuset products are for you!
Conclusion
It's been an absolute joy writing this review on le creuset cookware. To sum up, this brand is the epitome of quality and durability. The material used in their construction ensures that they will last you for years to come.
The variety of colors and designs make sure there's always something that matches your style. Their heat retention technology ensures even cooking and the food always comes out perfectly. Our team found that their price is quite high, but the experience and quality they provide are worth every penny.
We hope our review has helped you in making an informed decision. In case you're looking for an investment in your cookware collection, we highly recommend checking out le creuset's range. Happy cooking!