To choose a loaf pan, consider the material, size, shape, and type of food you will be baking. A good loaf pan will ensure even baking, easy release, and durability.
Loaf pans are a must-have in any baker's kitchen, and choosing the right one can make a significant difference in the success of your baked goods. When shopping for a loaf pan, you want to consider the material, size, shape, and type of food you will be making.
Choosing the right material for your loaf pan, such as glass, metal, or silicone, can impact how your baked goods cook and release from the pan. The size of your loaf pan should also be considered based on the recipe you plan to make. Additionally, the shape and type of food you will be making, whether it be a sandwich loaf or a fancy sweet bread, should be considered when selecting a loaf pan. In this article, we will discuss in more detail how to choose a loaf pan that fits your baking needs.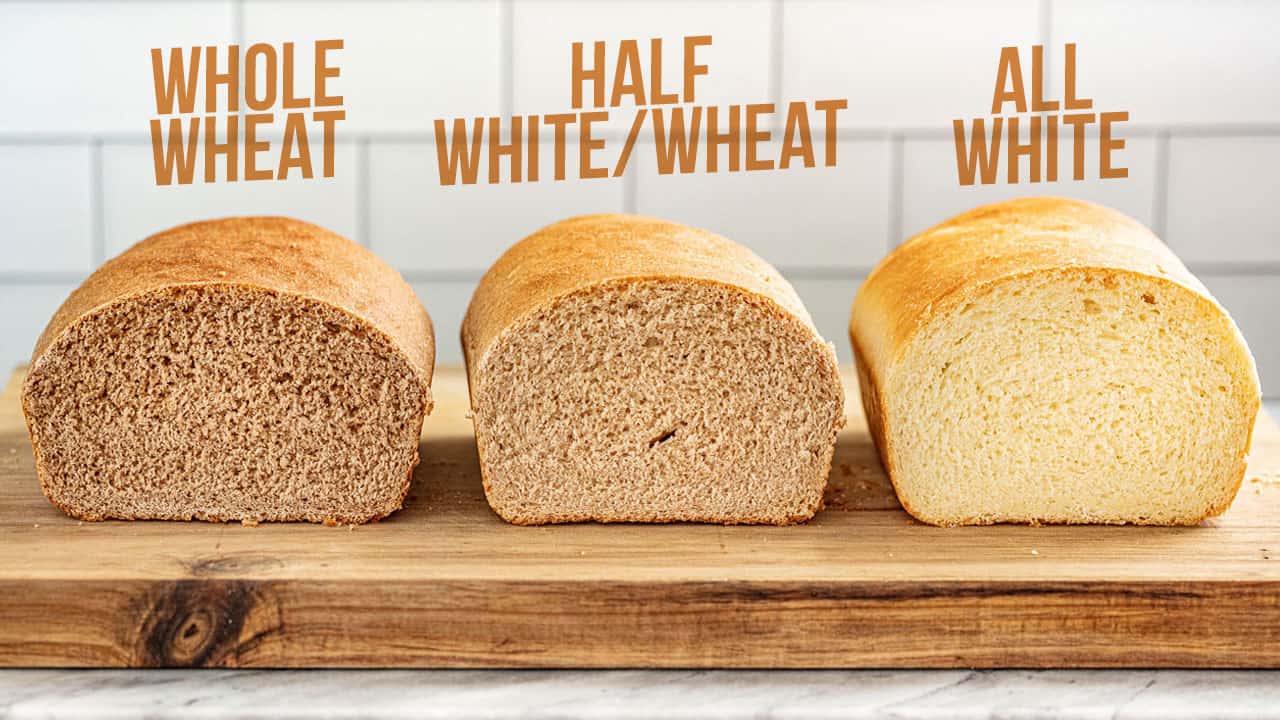 Credit: thestayathomechef.com
Why The Right Loaf Pan Matters
The Importance Of Choosing The Right Loaf Pan
Choosing the right loaf pan might not seem like a big deal, but it can make all the difference between a perfectly baked loaf and a disaster. The wrong size or type of loaf pan can cause uneven baking, an unappetizing crust, and even a doughy center.
Here are some key points to consider when selecting the right loaf pan:
Size matters: The size of your loaf pan can significantly impact your final baked good. Choosing the right size ensures even baking and optimal rising. Most recipes will provide recommendations on pan size. Be sure to measure your pan accurately as sizes may vary.
Material: Loaf pans are made from a variety of materials including glass, ceramic, silicone, metal and dark non-stick surfaces. Each material has its unique advantages and disadvantages. Consider what you are planning to bake and evaluate the ideal type of material for your specific recipe.
Shape: Loaf pans come in different shapes such as rectangular, circular, oval, and square. The standard rectangular shape is the most versatile, but the choice ultimately depends on the recipe and the desired outcome.
Non-stick: A non-stick surface can make the loaf pan convenient to use but can impact the quality of the crust. A dark non-stick surface can cause the crust to brown too much or too quickly, making it hard and unappetizing. Choose a light-colored surface with a non-stick coating or opt for a non-stick silicon pan.
Quality: Invest in high-quality loaf pans that are sturdy and durable. Cheap, thin, or unevenly coated pans can cause uneven baking and lead to sticking.
By considering these factors, you can choose the right loaf pan for your specific recipe and ensure a perfectly baked loaf every time.
Different Types Of Loaf Pans
Loaf pans come in various shapes, sizes, and materials. Different types of loaf pans are available in the market, and it's imperative to understand which one suits your baking needs. In this blog post, we'll be going over the different types of loaf pans available and their features.
Glass Loaf Pans
Glass loaf pans have a unique look and are trendy among bakers. They conduct heat more efficiently, making them ideal for baking cakes, bread, and meatloaf at a lower temperature. Here are some key points to keep in mind about glass loaf pans:
Glass loaf pans are fragile and can break or crack if dropped or exposed to sudden temperature changes.
They are non-reactive and don't transfer any flavor to the food.
Glass loaf pans need to be greased or oiled before adding the mixture.
Ceramic Loaf Pans
Ceramic loaf pans are more aesthetically pleasing than their metal counterparts. They are versatile and can be used to serve, store, and bake. Ceramic loaf pans come in different shapes, colors, and designs. Here are some key points to keep in mind about ceramic loaf pans:
They are dishwasher and microwave safe.
Ceramic loaf pans require preheating before adding the batter.
They come in various shapes like round, rectangular, and oval.
Silicone Loaf Pans
Silicone loaf pans are a modern invention and are becoming increasingly popular. They are made from a flexible, non-stick material that makes them easy to clean. Silicone pans come in vibrant colors and are available in various shapes and sizes.
Here are some key points to keep in mind about silicone loaf pans:
They are long-lasting and resist damage and wear and tear.
Silicone loaf pans can be used in both the freezer and the oven.
They don't require a lot of greasing, and the batter slides out easily.
Metal Loaf Pans
Metal loaf pans are the most common type of loaf pan, and they come in different materials like aluminum, stainless steel, and carbon steel. When baking in metal loaf pans, ensure that they have a non-stick coating to prevent the batter from sticking.
Here are some key points to keep in mind about metal loaf pans:
They are durable and easy to clean.
Metal loaf pans can conduct heat more unevenly than other pans, leading to under or overdone food.
They are available in different sizes and shapes.
Choosing the right loaf pan ultimately boils down to personal preference based on your baking needs. When selecting a loaf pan, consider how frequently you intend to use it, the type of food you'll be baking, and the size and shape.
With this guide, you should have an easier time selecting the perfect loaf pan for your baking needs.
Factors To Consider When Choosing A Loaf Pan
If you're a passionate baker or cook, choosing the right loaf pan is crucial for your recipes' success. Here are some factors to consider when selecting a loaf pan.
Size:
The first thing to think about is the size of the loaf pan. The most common sizes are 8. 5 by 4. 5 inches and 9 by 5 inches. Choose a larger pan if you want a bigger loaf or more servings.
Keep in mind that bigger pans will require more baking time.
Material:
The loaf pan's material determines how evenly it bakes and how easy it is to clean. Common materials include aluminum, non-stick, glass, and silicone.
Aluminum: These are great heat conductors and perfect for bread or cake loaves. They are also durable and lightweight.
Non-stick: Best for soft bread, these pans are easy to clean and take care of. However, if scratched, the coating might harm the food.
Glass: They are slower to heat but hold heat longer, making them ideal for softer bread crust. They are also attractive and able to double as serving dishes.
Silicone: These are easy to clean and come in various colors. They're good heat conductors, eliminate the need for pan greasing, and release baked goods pretty well. However, they tend to droop and lose their shape.
Shape:
Shape determines what you can bake in your loaf pan and how it looks when baked. You can choose between:
Straight-sided: These pans are perfect for baking quick bread, yeast bread, and loaf cakes.
Pullman: If you want a square-shaped loaf, use a pullman loaf pan. It has a lid that allows you to create perfectly shaped sandwich bread.
Round: Use these pans for making breakfast bread, tea cakes, and ring cakes.
Coating:
The coating of the loaf pan varies and affects how the bread will release or not from the pan. Loaf pans come uncoated or with various kinds of coating. Coatings include:
Non-stick coating: These reduce sticking and make the pan easier to clean.
Silicone coating: These are common and release bread perfectly.
Ceramic coating: They're naturally non-stick and easy to clean. However, they can be more expensive than the other kinds.
With these factors in mind, you can choose the perfect loaf pan for your next baking project.
Care And Maintenance Of A Loaf Pan
How to choose a loaf pan? Care and maintenance of a loaf pan
Loaf pans are an essential kitchen item for any keen baker. Whether you're making a classic banana bread or experimenting with new recipes, it's important to maintain your loaf pan to ensure its longevity. In this post, we'll take a closer look at how to care for and maintain your loaf pan with a focus on cleaning and storage tips.
Cleaning Tips And Tricks
Keeping your loaf pan clean is crucial to maintaining its quality. The following tips will keep your loaf pan in top condition:
Wash your loaf pan by hand with warm soapy water and a non-abrasive sponge or cloth. Avoid putting it through the dishwasher as it can damage the coating.
If there are stubborn stains or burnt-on food, leave the pan to soak in hot water and bicarbonate of soda for a few hours before washing it.
Use a soft-bristled brush to clean the corners and crevices of the pan where food debris can become trapped.
Dry your loaf pan with a clean towel or leave it to air dry.
Storage Tips
Proper storage is important to keep your loaf pan in good condition for longer. Follow these tips for storing your loaf pan:
After cleaning your loaf pan, allow it to dry thoroughly before storing it.
Store your loaf pan in a cool, dry place away from direct sunlight to avoid warping or discoloration.
Avoid stacking heavy items on top of your loaf pan as it can get damaged.
If you need to stack items, insert some parchment paper between the pans to avoid scratching or denting.
By following these simple care and maintenance tips, you can ensure your loaf pan lasts for years to come, providing you with delicious baked goods every time.
Frequently Asked Questions For How To Choose A Loaf Pan?
What Is A Loaf Pan Used For?
A loaf pan is a baking dish specifically designed for making bread and loaf cakes. It is used to bake bread with a desired shape and texture.
What Are Loaf Pans Made Of?
Loaf pans are typically made from metal, aluminum, glass, or silicone. Each material has its own benefits and drawbacks, and the choice of material depends on personal preference.
What Size Loaf Pan Should I Use?
The size of the loaf pan you should use depends on the recipe you are making. Generally, a 9×5 inch loaf pan is the standard, but some recipes may call for a smaller or larger size.
Can I Use A Loaf Pan For Other Baked Goods?
Yes, a loaf pan can be used to make a variety of baked goods such as meatloaf, casseroles, and pound cakes. It's a versatile kitchen tool to have.
How Do I Care For My Loaf Pan?
To increase the lifespan of your loaf pan, wash it with warm, soapy water and dry it thoroughly. Avoid using harsh detergents or abrasive sponges as it may damage the pan. Store it in a dry place.
Conclusion
After considering all the key factors, choosing the right loaf pan is easier than you may have thought. Begin with determining your ideal size, material, and shape based on your baking needs and habits. Once you have a better understanding of what you need, you can decide between non-stick or not, as well as additional features such as covers or handles.
While it may seem simple, taking these steps can help ensure a hassle-free baking experience. Don't be afraid to invest in a good quality pan – it will likely last you years to come. With a little bit of research, you can have the perfect loaf pan for your kitchen and your next delicious culinary creation.
Happy baking!