August 4,2023
Calphalon Stackable Cookware is a great choice for busy cooks who need to save time and space. It's made from durable, heavy-gauge aluminum that conducts heat quickly and evenly, reducing the chance of food sticking or burning. Consumers generally rate the cookware highly in reviews and are particularly pleased with its stackability feature which helps them save storage space.

Its nonstick coating provides easy cleanup after cooking and it's oven-safe up to 450 degrees Fahrenheit so you can finish off dishes in the oven if needed.
Calphalon Stackable Cookware Reviews:The handles are comfortable to hold when transferring pots and pans between burners on the stovetop or into the oven. Additionally, Calphalon offers a lifetime warranty on all their products which shows they stand behind their cookware quality.
When it comes to kitchen cookware, Calphalon is a brand that stands tall in the culinary world. Their innovative and high-quality products have garnered a reputation for excellence and durability. Among their impressive range of kitchenware, the Calphalon Stackable Cookware stands out as a space-saving marvel, designed to optimize your kitchen storage while maintaining the brand's commitment to top-notch performance. In this review, we will delve into the product details, features, pros, and cons of the Calphalon Stackable Cookware set.
Product Details:
The Calphalon Stackable Cookware set is a comprehensive collection of pots, pans, and lids that have been thoughtfully crafted to save space in your kitchen cabinets or drawers. The set usually includes various sized saucepans, stockpots, and frying pans, providing a versatile array of cookware options suitable for a wide range of cooking tasks.
Features:
Stackable Design: The defining feature of this cookware set is its space-saving design. Each piece of the Calphalon Stackable Cookware is meticulously shaped to fit seamlessly with one another, allowing you to stack the pots and pans like building blocks. This intelligent design eliminates the need for excessive cabinet space and enables you to organize your kitchen more efficiently.
Hard-Anodized Aluminum Construction: Calphalon uses hard-anodized aluminum as the core material for their stackable cookware. This material ensures even heat distribution, reducing hotspots and providing consistent cooking performance across the entire surface.
Nonstick Cooking Surface: The interior of the Calphalon Stackable Cookware is coated with a durable and reliable nonstick surface. This feature allows for easy food release and hassle-free cleanup, making cooking and washing up a breeze.
Tempered Glass Lids: The set typically comes with tempered glass lids that fit multiple pots and pans. These lids enable you to monitor your cooking without lifting them, preserving heat and flavors while preventing splatters.
Stay-Cool Handles: Calphalon equips its stackable cookware with stay-cool handles, which are usually made from stainless steel. This design ensures safe and comfortable handling while cooking on the stovetop.
Oven and Dishwasher Safe: The Calphalon Stackable Cookware set is usually oven-safe up to a certain temperature, allowing for seamless transitions from stovetop to oven cooking. Additionally, most of the pieces are dishwasher safe, making cleanup a breeze.
Pros:
Space-Saving Champion: The primary advantage of the Calphalon Stackable Cookware is its ability to save valuable kitchen space. The stackable design eliminates clutter and makes your kitchen more organized and efficient.
Premium Build Quality: Calphalon is renowned for its high-quality materials and construction, and this stackable cookware set is no exception. The hard-anodized aluminum core ensures excellent heat distribution and durability.
Nonstick Coating: The nonstick cooking surface facilitates easy food release, reducing the need for excessive oil or butter, and simplifying the cleaning process.
Versatility: With a wide range of pot and pan sizes, the set offers versatility for various cooking tasks, from simmering sauces to sautéing vegetables or searing meats.
Compatible Lids: The inclusion of tempered glass lids adds convenience and allows you to keep an eye on your dishes as they cook.
Oven and Dishwasher Safe: The ability to use these pots and pans in the oven and clean them in the dishwasher adds to their user-friendly nature.
Cons:
Price: As with any high-quality cookware set, the Calphalon Stackable Cookware might be relatively expensive compared to basic cookware options.
Limited Stackability: While the stackable design works exceptionally well for the included pots and pans, it might not be compatible with all other cookware in your kitchen.
Durability of Nonstick Coating: Although Calphalon's nonstick coatings are durable, they can wear down over time with heavy use and improper care.
Handwashing Recommended: While most of the pieces are dishwasher safe, handwashing is often recommended to prolong the life of the nonstick coating and preserve the overall quality.
In conclusion, the Calphalon Stackable Cookware set is an excellent investment for individuals seeking an organized and efficient kitchen setup. Its space-saving design, premium construction, and nonstick features make it a valuable addition to any cooking enthusiast's kitchen.
While the initial cost might be a consideration for some, the durability and performance of this cookware set are likely to outweigh the investment over time. If you prioritize an organized kitchen space and appreciate the quality of Calphalon products, the Stackable Cookware set is undoubtedly a worthy choice.
WATCH THIS BEFORE YOU BUY CALPHALON PRODUCTS
Calphalon stackable cookware reviews are overwhelmingly positive. With the pieces able to be nested together, it is easy to save space in a kitchen while still having all the necessary cookware. The stainless steel construction of these pieces makes them durable and long-lasting, while their nonstick interior ensures they will provide even heating for cooking.

In addition, many reviewers say that cleanup is fast and simple with this cookware set.
Calphalon Stackable 15-Piece Set
The Calphalon Stackable 15-Piece Set is the perfect choice for anyone looking to expand their kitchen cookware collection. This set includes a variety of essential pieces, such as an 8" omelette pan, 10" fry pan, 1.5 qt saucepan with cover and more – all made from hard-anodized aluminum that provides lasting durability and even heat distribution throughout each piece. Plus, they're stackable to help save space in your cabinets!
Calphalon Stackable 10-Piece Set
The Calphalon Stackable 10-Piece Set is an ideal choice for any kitchen. This handy set contains all the essential cookware pieces you need to prepare delicious meals, including two frying pans, a sauté pan, three saucepans with lids, and four cooking tools. The set also features patented stackable design that saves space and makes storage easier than ever before.

Made from hard-anodized aluminum for even heat distribution and maximum durability, this high-quality cookware set will make a great addition to your kitchen collection.
Calphalon Premier 15-Piece Set
The Calphalon Premier 15-Piece Set is perfect for those who want to cook like a professional chef. This set includes everything you need to cook, from saucepans and skillets to stock pots and sauté pans. Every piece is made of hard-anodized aluminum that's twice as strong as stainless steel for lasting performance and even heating throughout the pan.

Plus, it has nonstick interiors that make clean up a breeze!
Calphalon 15-Piece Pots And Pans Set
The Calphalon 15-Piece Pots And Pans Set is a must-have for any type of home cook. This set includes 8 and 10 inch fry pans, 1.5 and 2.5 quart saucepans with lids, 3 quart sauté pan with lid, 5 quart Dutch oven with lid and 8 quart stockpot with lid all made from hard-anodized aluminum for durability and even heat distribution. The interiors are nonstick for easy food release while the stainless steel handles stay cool on the stovetop.

Plus, this set is dishwasher safe so cleanup is super easy!
Calphalon Stackable Frying Pan
The Calphalon Stackable Frying Pan is a great kitchen tool for home chefs who are looking to save space in their cabinets. This frying pan features an easy-to-stack design that allows the pans to be stacked together securely, not only saving cabinet and countertop space but also making it easier to store and transport. It's made from durable hard-anodized aluminum for superior heat distribution, so your food will cook evenly without sticking.

Additionally, it has a nonstick interior that makes cleaning up quick and simple. With its versatility and convenience, the Calphalon Stackable Frying Pan is perfect for any home cook!
Calphalon Premier Hard-Anodized
The Calphalon Premier Hard-Anodized cookware set is a great choice for serious home cooks. Featuring heavy-gauge, hard-anodized aluminum construction and 3 layers of PFOA-free nonstick coating, this high performance cookware delivers exceptional durability and even heating without hot spots. The stay cool stainless steel handles are riveted for extra strength and the tempered glass lids lock in moisture to help you create delicious, healthy meals with ease.

Plus, all pieces are oven safe up to 450°F so you can easily finish off recipes in the oven!
Calphalon Premier Space Saving 10-Piece Set
The Calphalon Premier Space Saving 10-Piece Set is the perfect addition for any kitchen. This set features stackable cookware pieces that can be nested in any order to save up to 30% more space in your cabinets. The hard-anodized aluminum construction provides even heating and exceptional durability, while its nonstick interior makes cleanup a breeze.

With two saucepans, a stock pot, three skillets and a sauté pan included in this set, you'll have all of the essential cookware pieces necessary to prepare delicious meals with ease!
Calphalon Premier 12-Piece Hard Anodized Space Saving Cookware
The Calphalon Premier 12-Piece Hard Anodized Space Saving Cookware set is an excellent choice for anyone looking to optimize their kitchen space. This set consists of two saucepans, a stock pot, sauté pan, and 8-inch and 10-inch frying pans that stack together into one compact unit. The hard anodized construction provides even heat distribution and durability, while the nonstick interior allows for easy food release and cleanup.

Plus, all pieces are oven safe up to 450°F so you can easily transition from stovetop to oven cooking with just one pan.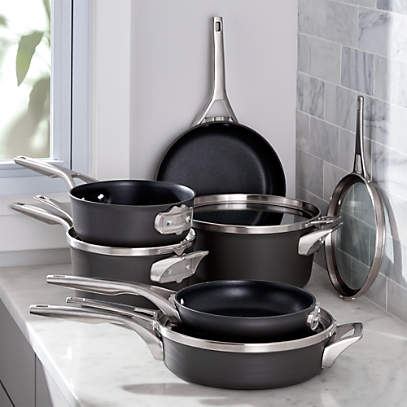 Credit: www.crateandbarrel.com
Which is Better Rachel Ray Or Calphalon?
When it comes to deciding between Rachel Ray and Calphalon, you might find yourself in a bit of a quandary. Both brands are well-known for their quality products that range from cookware sets to bakeware, so the decision can be tough. Fortunately, there are certain factors you should consider when making your choice that can help make the process easier.

Rachel Ray is known for its colorful design and affordability, while Calphalon is renowned for its high performance cooking capabilities with strong construction and premium materials. Ultimately, it comes down to personal preference as both offer excellent features at different price points depending on what you're looking for in kitchenware. If budget isn't an issue or if you're looking for something more durable than Rachel Ray's offerings then Calphalon may be better suited to meet your needs; however if cost savings are important then Rachel Ray offers good value without sacrificing quality or style.
Is Calphalon a High End Brand?
Yes, Calphalon is a high-end brand. Founded in the early 1970s, Calphalon has been manufacturing quality kitchenware and cookware for over four decades. From their signature nonstick pots and pans to stainless steel oven safe bake ware, they offer a wide range of products designed with advanced features that help you efficiently prepare delicious meals with ease.

Their innovative materials are designed to last long and provide superior performance while being easy to clean up afterwards. Additionally, all of their products feature thoughtful design elements such as ergonomic handles which make them comfortable and easy to use as well. Furthermore, many of their collections also come in sleek modern designs that will look stunning in any contemporary kitchen setting.

With so many great qualities it's no wonder why Calphalon is considered one of the top brands when it comes to high-end kitchenware and cookware!
Can Calphalon Stackable Pans Go in the Oven?
Yes, Calphalon stackable pans can go in the oven. These pans are designed to be extremely durable and offer even heat distribution when cooking food. They are made of heavy-gauge hard-anodized aluminum that is highly resistant to corrosion and scratches, making them perfect for use in an oven.

The handles of the stackable pans have a silicone grip on them which makes them easy to move around while they're hot without burning your hands. You should always check the maximum temperature that each pan can reach before placing it in your oven as this will vary depending on the model you have purchased. Additionally, make sure you reduce any direct heat sources such as broilers or open flames when using these pans inside an oven as they may cause damage if exposed directly to high temperatures for too long.
What are the Different Levels of Calphalon?
Calphalon is an American cookware and kitchenware company that provides a wide selection of products for the home chef. The brand offers three different levels of cookware to meet the needs of all types of cooks. The Calphalon Classic line is made from hard-anodized aluminum, providing even heat distribution and excellent durability.

This line also features nonstick interiors with easy clean up in mind. Meanwhile, their Professional Series features heavy gauge hard-anodized construction with stainless steel exteriors, making it ideal for commercial use in professional kitchens or high-end homes alike. Lastly, their Contemporary Nonstick collection combines superior performance with modern styling that looks great on any stovetop while still being dishwasher safe and durable enough to last through multiple cooking sessions.

Each product comes with a full lifetime warranty so you can be sure your purchase will remain reliable for years to come!
Buying Guide Of Calphalon Stackable Cookware
Cookware is an essential part of any kitchen, and investing in high-quality, efficient, and space-saving cookware can make a significant difference in your cooking experience. Calphalon, a reputable brand known for its durable and innovative cookware, offers a range of stackable cookware sets that are designed to save space and provide exceptional performance. This buying guide will walk you through the key considerations to keep in mind when purchasing Calphalon stackable cookware to ensure you make an informed decision.
1. Stackability and Space-saving Design: One of the main reasons to choose Calphalon stackable cookware is its space-saving feature. Look for sets that have a nesting design, allowing the pots and pans to neatly stack together, reducing clutter in your kitchen cabinets. Check the compatibility of the handles and lids to ensure a secure fit when stacked.
2. Material and Construction: Calphalon stackable cookware is available in various materials, including stainless steel, hard-anodized aluminum, and non-stick coatings. Each material has its benefits, so choose based on your cooking preferences and needs. Stainless steel offers durability and even heating, while hard-anodized aluminum provides excellent heat conductivity and is often non-stick. Non-stick coatings are perfect for low-fat cooking and easy cleanup.
3. Versatility and Cooktop Compatibility: Consider the types of cooktops you use at home and ensure the Calphalon stackable cookware set is compatible. Most Calphalon sets are suitable for gas, electric, ceramic, and induction cooktops, but it's always wise to double-check. Additionally, choose a set that offers versatile pots and pans suitable for various cooking techniques.
4. Lid Quality and Fit: Lids are an essential part of cookware, as they help trap heat and moisture during cooking. Ensure the Calphalon stackable cookware set comes with well-fitting, tempered glass lids that allow you to monitor your food without lifting them. Sturdy lids with steam vents are ideal for preventing boil-overs and spills.
5. Handles and Comfort: Comfortable and ergonomic handles are crucial for easy handling and safe cooking. Look for Calphalon stackable cookware with handles that stay cool on the stovetop and provide a secure grip. Removable handles can be an advantage, as they enhance the nesting capability of the cookware and enable oven-safe use.
6. Cooking Performance: The cooking performance of the cookware is a critical factor to consider. Check for even heat distribution and retention to avoid hotspots that can lead to unevenly cooked food. Non-stick coatings should be durable and free from harmful substances like PFOA and PTFE.
7. Dishwasher and Oven Safety: If you prefer easy cleanup, check if the Calphalon stackable cookware set is dishwasher-safe. Moreover, consider the oven-safe temperature limits, especially if you like to finish dishes in the oven. Some Calphalon cookware can withstand high temperatures, making them suitable for broiling and baking.
8. Set Composition: Assess your cooking needs and choose a set with the right composition of pots and pans. Most Calphalon stackable cookware sets include essential items like saucepans, frying pans, and stockpots. Some sets may include specialty items like a grill pan or a steamer insert.
9. Brand Reputation and Warranty: Calphalon has a strong reputation for producing high-quality cookware. Look for a set with positive customer reviews and consider the warranty offered by the brand. A reliable warranty ensures that you can trust the quality and longevity of your investment.
10. Price and Budget: While Calphalon cookware is known for its premium quality, it's essential to set a budget and find a set that meets your requirements without exceeding your budget. Consider the long-term value and durability of the cookware, as investing in a higher-priced, long-lasting set can often be more cost-effective in the long run.
In conclusion, choosing Calphalon stackable cookware involves considering factors like stackability, material, cooktop compatibility, lid quality, handle comfort, cooking performance, dishwasher and oven safety, set composition, brand reputation, and budget. By carefully assessing these elements, you can select the ideal set that enhances your cooking experience and brings convenience to your kitchen while providing reliable and efficient performance for years to come. Happy cooking!
Conclusion
Overall, Calphalon Stackable Cookware is an excellent option for anyone looking for a quality cookware set. The pieces stack easily and take up minimal space in the cupboard, making them perfect for small kitchens or homes with limited storage. They are also incredibly durable and can last years with proper care.

With their even heating, non-stick surfaces, as well as dishwasher and oven safe features, this set will be sure to make any meal preparation easier and more enjoyable.