Updated January 13,2023
If you're on a budget, it's a good idea to buy a set of multi-ply stainless-steel cookware.
The sets available from the T-Fal Ultimate SS Copper Bottom collection can save you money while maintaining the quality of your cooking.
Best Value Multi Ply Stainless-Steel Cookware:While they aren't quite as durable as higher-priced brands, they do perform basic functions reliably and clean easily.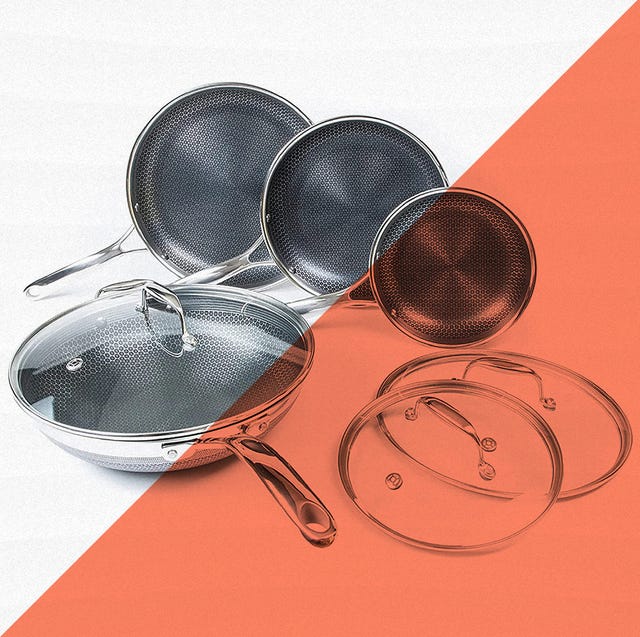 STAFF, COURTESY OF HEXCLAD
While there are several popular cookware materials, from ceramic-coated nonstick to heavy-duty cast iron, stainless steel is a tried-and-true favorite. These gleaming pots and pans are built to last for generations. They're easy to clean (many are dishwasher-safe), and they resist dings, scratches, and dents.
Cooks love stainless-steel pots and pans because the surface heats evenly and maintains that heat well—no more burning your food on an unexpected hot spot. A high-quality, stainless-steel pot can also go from the stovetop into the oven and can be used with induction stoves, which generate heat through electrical induction that requires a magnetic connection. Keep in mind that certain materials, like copper, aluminum, and glass, will not work on an induction cooktop unless they have a stainless-steel core. So, if you're on the stainless-steel-cookware train and are looking for a complete set—or just a few pieces—to upgrade your kitchen, here's what you need to know before you buy.
What to Consider
Which Pieces Do You Need?
Before you go all-in and invest in a complete set of stainless-steel cookware, take inventory of what you already own. If you're very particular about the size, shape, and other features of your cookware, or you need a few pieces to supplement your existing collection, you can buy individual pieces or even a smaller, less-expensive set. But if you're starting over, stocking a new kitchen, or finally ready to treat yourself to all things matching, you may want to invest in a complete set that meets all of your culinary needs. Stainless-steel cookware sets range in size from a few pots and pans with lids to a fully equipped 27-piece set that includes utensils.
Cookware collections vary not only in how many pieces they include but also in the size and type of each piece included. Take a close look at the pan sizes that come in a set. If you already have a great Dutch oven or go-to wok, you may want a set that includes only stock pots and saucepans. If you're looking for a set of skillets that's easy to store and can be used to make quick stir-fries and scrambled eggs, there are sets for that, too.
But…Every Kitchen Should Have These Three Pieces
The three key stainless-steel cookware pieces every cook should have are: a great go-to skillet, a stockpot, and a medium-sized saucepan. The skillet is great for stir-fries, searing meat, and frying eggs. As a bonus, opt for an oven-safe skillet. You'll need the stockpot for soups, pasta, and blanching veggies. And the saucepan comes in handy for smaller tasks like stove-top oatmeal, sauces, hard-boiling eggs, and other everyday tasks.
Choose Your Shape
The shape of your cookware comes down to personal preference. Higher-sided pots and pans can help prevent splashes and spills, but they tend to have a narrower opening for stirring. Flared sides make it easier to pour liquids from your pots and pans. For safer cooking, look for a set with flat rather than rounded bottoms, which helps conduct heat more evenly.
Glass or Stainless Lids?
Most cookware sets have lids, but not all lids are the same. You'll find sets with stainless steel lids and others with see-through glass lids. Some cooks prefer the better heat retention provided by stainless. But the benefit of a glass lid is that you can see what's going on inside your pot while you cook.
The most useful lid may be on the Dutch oven or rondeau. These pots are suited for the oven and are the best for braising meat. If the pot lid doesn't fit tightly, you risk losing your braising liquid to evaporation in the oven. So if you're going to get one pot with a matching lid, let it be your oven-safe braising dish. A tight-fitting lid will sit inside the lip of the pot, not on top. When you jiggle the handle, the lid shouldn't move around much. There should also be no vents or holes on the sides or on the top to let out steam.
Core and Ply: What do They Mean?
Core, as it relates to cookware, refers to a pot's innermost material. For example, some stainless steel cookware has a copper core, which is great at conducting heat but not induction-compatible—it's also more expensive than stainless. So, by layering the copper with stainless steel, you get the best of both: a pot that retains heat well and works on every kind of stovetop and that won't break the bank.
Ply refers to the number of layers of metal in a pot or pan. Most cookware comes in 3- or 5-ply with layers of stainless steel, copper, and aluminum. Pots that are 5-ply tend to be thicker, heavier, and more durable. They also heat more slowly, which can be a good thing because you're less likely to burn food if you turn the heat on too high with a cold pot. Thicker stainless steel also retains heat longer. Three-ply cookware tends to be lighter and less expensive. Many cooks prefer 3-ply pots and pans because they heat more efficiently and cool down faster for safe cleanup.
In addition, some cookware is finished with a nonstick coating. Stainless steel on its own is not nonstick, so many manufacturers will add a layer of ceramic coating that food does not adhere to. It's safe to assume that a cookware set is not nonstick unless it's advertised as such.
Value vs. Price
Cookware sets come in a range of prices, and a larger set isn't always necessarily more expensive. The other factors that affect the price of a set include the materials (a 5-ply pot with a copper core is likely to cost more than a 3-ply pot with an aluminum core), design features, and functionality, such as being oven- or dishwasher-safe. In addition, some brand names also come with a price tag.
How We Evaluated
As a professional chef, I value cookware that's not only built to last but also has well-thought-out features, such as tight-fitting lids, stay-cool handles, and no-mess pouring spouts. I am also aware that not everyone needs professional-quality cookware, so while I don't recommend low-quality, cheaply made products, I do take price into consideration to make sure you're getting the best value for your budget–every kitchen should have at least a large stockpot, several saucepans, and skillets in various sizes. My recommendations are based on my experience using stainless-steel cookware as well as online reviews to make sure the pots and pans hold up well to regular use.
BEST ALL-AROUND STAINLESS STEEL COOKWARE SET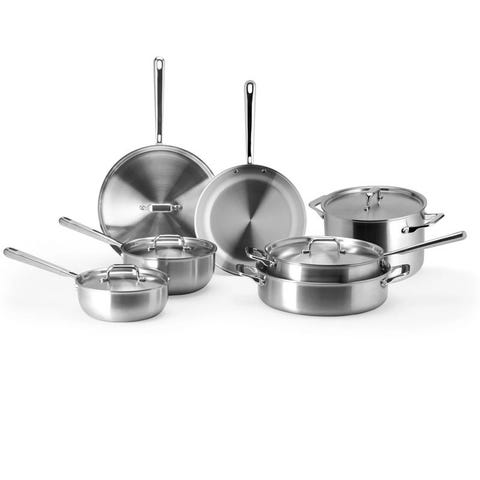 MISEN
Key Specs
Handle Material: Stainless steel
Pieces: 11
Dishwasher safe: Yes
This 11-piece set of all-stainless cookware from direct-to-consumer brand Misen has everything you need to outfit your kitchen, including an 8-quart stockpot, a 3-quart sauté pan, and a 6-quart rondeau—ideal for braising. To make a fall-apart tender piece of braised beef or short ribs, for example, I always opt for a wide pot with a tight-fitting lid that's not too deep, so it can fit in the oven. The lid is essential so all of your delicious braising liquid doesn't evaporate over the two to three-hour cook. The pots are made from 5-ply (that's five layers) composite steel that heats evenly and retains heat very well for uniform, reliable cooking.
ADVERTISEMENT – CONTINUE READING BELOW
BEST LARGE STAINLESS STEEL COOKWARE SET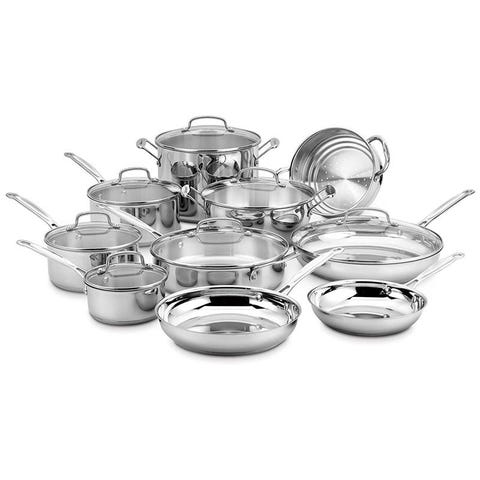 CUISINART
Key Specs
Handle Material: Stainless steel
Pieces: 17
Dishwasher Safe: Yes
For serious home cooks, this 17-piece set is a one-and-done buy. It includes four lidded saucepans in various sizes, a sauté pan, a dutch oven, a stockpot, two skillets, and a steamer basket that fits inside the 2- and 3-quart saucepans. All of the pans are oven-safe up to 500°F and can be used under the broiler. The glass lids are oven-safe up to 350°F.
May be difficult to store in small kitchens
BEST PROFESSIONAL STAINLESS STEEL COOKWARE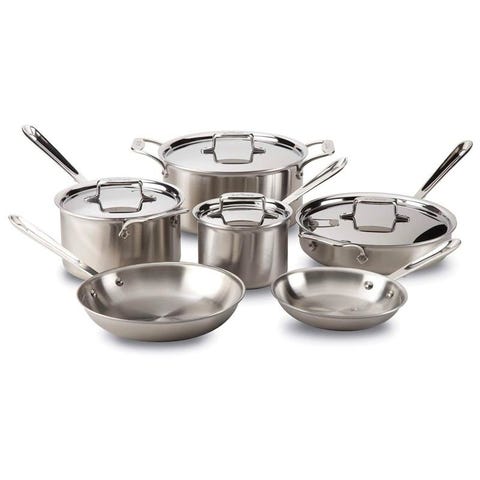 ALL-CLAD
Key Specs
Handle Material: Stainless steel
Pieces: 10
Dishwasher Safe: Not recommended
All-Clad is known for making some of the highest-end cooking utensils, and this beautiful, 10-piece set does not disappoint. Each pot has a subtle brushed finish for a timeless look. What you get: a stockpot, two frying pans, two lidded saucepans, and a 3-quart sauté pan. If you're in love with this look but not ready to drop $800 on the 10-piece set, All-Clad offers a basic 5-piece set for $500.
Flared pot rims prevent drips when pouring
BEST BUDGET STAINLESS STEEL COOKWARE SET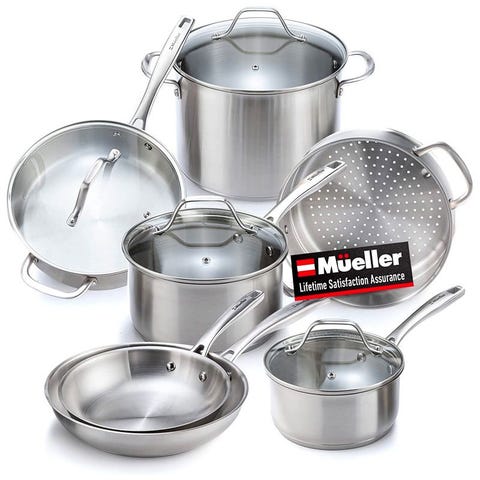 MUELLER
Key Specs
Handle Material: Stainless steel
Pieces: 11
Dishwasher Safe: Not recommended
This is a high-value set of cookware with two frying pans, three saucepans, an 8-quart stockpot, and a steaming insert. The pots come with tight-fitting tempered-glass lids that allow you to see what's happening inside as things cook.
Includes a steaming insert for vegetables and pasta
Lighter weight stainless than other options
BEST HIGH-SIDED STAINLESS STEEL COOKWARE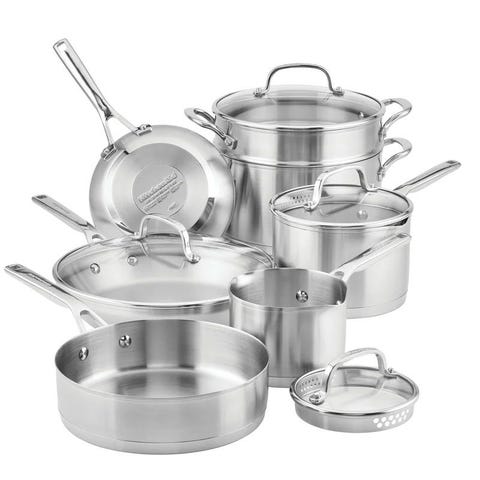 KITCHENAID
Key Specs
Handle Material: Stainless steel
Pieces: 11
Dishwasher Safe: Yes
These pots and pans from KitchenAid have a different shape than those of most competitors, with higher sides and a smaller diameter, which can help reduce splatters and spills. The saucepans have convenient pour spouts, and the lids have vents on the sides for straining or letting out steam. The set includes a 3.75-quart steamer insert that fits into the 6-quart stockpot, which has convenient volume markers on the inside for easier measuring.
Metal utensils not recommend
BEST SMALL STAINLESS STEEL COOKWARE SET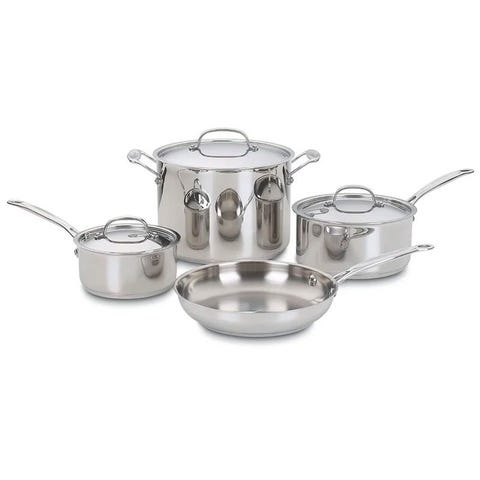 CUISINART
Key Specs
Handle Material: Stainless steel
Pieces: 11
Dishwasher Safe: Yes
For the kitchen that's not starting from scratch, this 7-piece set from Cuisinart is a great buy. It includes a 10-inch skillet (no lid), lidded 1.5- and a 3-quart saucepans, and an 8-quart stockpot. The pots have an aluminum core for even heating, but the stainless-steel finish means they're still safe for induction-stove use.
Tapered rims for clean pouring
BEST NON-STICK STAINLESS STEEL COOKWARE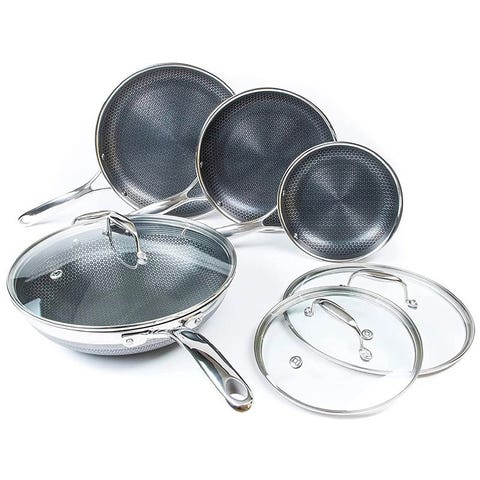 HEXCLAD
Key Specs
Handle Material: Stainless steel
Pieces: 7
Dishwasher Safe: Yes
This set of skillets combines the even heat distribution of stainless steel with the easy-to-clean nature of a nonstick finish. The set is oven-safe up to 500°F and includes a 12-inch wok and three skillets that range in diameter from 8 to 12 inches, as well as lids that fit each pan. Restaurateur, chef, and television personality Gordon Ramsay calls them "the Rolls-Royce of pans."
No stock pots or saucepans
BEST STAINLESS COOKWARE SET WITH UTENSILS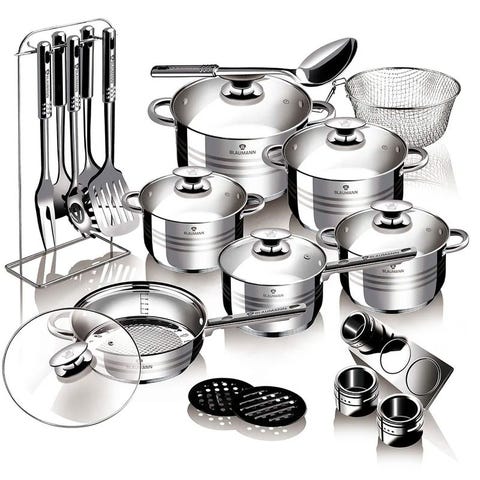 BERLINGER
Key Specs
Handle Material: Stainless steel
Pieces: 27
Dishwasher Safe: Yes
This full set of cookware and utensils is a budget-friendly way to stock a new kitchen. In addition to six lidded stockpots, the set includes six handy utensils (spatulas, spoons, and pasta grabbers), a hanging rack, stainless-steel magnetic spice jars, two trivets, and a mesh strainer. Three rows of satin lines on each pot add a stylish touch.
Clear tempered-glass lids
Some users noticed discoloration after multiple uses
Whether you're cooking for one or for a large group, the Best Stainless Steel Pan is a must-have for your kitchen. While some brands may be more expensive than others, they usually have better ergonomics and better construction, and they tend to warp less than their cheaper counterparts.
Additionally, many of them come with a manufacturer warranty. When shopping for a stainless steel pan, you should consider the durability and reliability of the product. A well-made pan will be durable and will last months.
The best stainless steel pans are built to last. A good quality pan will not require any type of protective coating. They can also be used in the oven and on the stovetop, so you can be sure it will last for many years. However, it's essential to choose a stainless steel pan that has a sturdy handle and can withstand high temperatures. This way, you can make sure it's safe to use in the oven.
Regardless of how many people you're cooking for, the Best Stainless Steel Pan is one that will hold the heat. Even when cold ingredients are added, the pan will maintain a consistent temperature. This is great for hosting meals at busy times. You can even place a lid on it to keep the heat in. This means your guests can easily serve themselves when you're hosting a party. With a stainless steel pan, you won't need to worry about food sticking to the pan.
When buying new cookware, you must decide whether the material is safe or not. If you are unsure of whether or not a product is safe, read the following article to get a better understanding of the various types of stainless steel cookware.
Aluminum is one of the most common materials used in cooking and is found in over 60% of cookware sold in the US. It's cheap, and plentiful, making it a great choice for home cooks, but it also has numerous health hazards, including being a possible cause of Alzheimer's Disease.
The FDA regulates food safety and requires stainless steel to contain at least 16% chromium. Because there is no protective coating on steel, it is also known as the safest type of cookware. Although a good quality 18/10-grade stainless-steel set can cost a small fortune, you can rest assured that it's safe for your family. In addition to being a safe option, stainless steel is also an eco-friendly option.
Choosing the Safest Stainless Steel Cookware is an important decision. It's important to choose cookware that has a higher chromium content than those with lower chromium content. While low-quality stainless steel will leach chemicals into your food, higher-quality stainless steel will resist leaching and flaking. You should also ensure that you buy high-quality cookware with a lifetime guarantee.
The Best Pots and Pans are those that are easy to clean and maintain. An easy-to-clean pan with triple-ply construction will help you cook food faster and more efficiently. You won't have to worry about oil stains and spills because the non-stick surfaces won't burn. These pots and skillets are not heavy, but they'll do their job as well. These cookware pieces won't break if used correctly.
The Best Pots and Pans are essential for your kitchen. They can make or break your healthy food. A bad pan can ruin a perfectly good meal. The best cookware is made of nonstick materials and doesn't contain lead, cadmium, plastic, or Teflon. Purchasing a good set of pots and saucepans will help you cook healthier and eat healthier. However, the best cookware doesn't come with a pricey price tag.
When buying new cookware, make sure you check out the different materials. Stainless steel is a great material for pots and pans. Adding chromium to steel creates stainless steel, a durable and attractive metal that won't react with foods. This makes it ideal for the interior of a cookware. It also won't react to acids or alkaline food, and it won't pit easily.
The best cookware brands on the market are incredibly diverse. From the French classics of the 1800s to the market disrupting newcomers, you're sure to find the perfect set for your kitchen. Many of these brands are made of premium materials, such as stainless steel and cast aluminum, and are beautifully designed. The most popular models of cookware are the most durable and functional. Here are the top brands. Read on for more information!
Cuisinart: This full-service culinary brand is one of the most popular. Many chefs and consumers choose Cuisinart cookware, and the company has won numerous awards. Their products can be found in retail outlets and online, so you can find the right ones for your kitchen. They also come in a wide variety of price ranges, making them an ideal choice for any budget. Whether you're buying for yourself or for a gift, these cookware brands have something for everyone.
Lodge: As one of the first American cookware manufacturers to use the Disamatic molding machine, Lodge has become one of the most popular non-stick cookware brands. While it's easy to find non-stick cookware for all budgets, the most popular Lodge item remains its cast iron. Rachael Ray: As a popular television host and food blogger, Rachael Ray's brand of cookware quickly rose to popularity. She was the first celebrity to endorse the line and the brand's cookware is now one of the best-selling cookware brands. The company's products are affordable, easy to use, and feature even heat cooking.
There are many benefits to owning a stainless steel cookware set. These pans are durable and versatile and can be used for everything from morning dishes like shakshuka to evening dishes like creamy tomato risotto. Whether you want a set for the entire family or a single piece to use only in the kitchen, stainless steel is an excellent choice. You can find several different styles of stainless steel cookware, depending on your taste and budget.
Choosing the right set of stainless steel cookware is important to your kitchen's aesthetics and functionality. Choose 18/8 or 18/10 for the best corrosion resistance, and avoid any cookware that is prone to rust. Using the proper grade will help prevent any dents and splatters from forming. Buying a high-quality set will make it last for a long time.
You should choose the right cookware depending on your needs and budget. Stainless steel cookware with 18/10 and 18/8 grades provide the highest levels of corrosion resistance. If you plan on using your cookware primarily for cooking, choose 18/0. This is a more affordable option but is best suited for heavy use in restaurants and casual homes. Each piece of stainless steel cookware comes with a numbered grade to indicate its nickel content and chromium content.
FAQs
Is Tri-Ply Stainless Steel Worth It?
Many cooks ask: "Is Tri-Ply Stainless Steel Worth it?" The answer varies. It may be worth it if you're looking for high-quality, sturdier cookware that can withstand the test of time. While some cookware manufacturers don't use the term "triply," they do use multiple layers of stainless steel in their products. This is an important feature if you're cooking for a large family, and a good set of pans can make the difference between a great meal and a failure.
What is the Best Cookware For a Reasonable Price?
When it comes to cooking, having a set of the best cookware you can afford is a must. Not only do you want the most effective cookware for the money, but you also want it to look and feel nice. It should be easy to use and be comfortable in your hands. Consider purchasing cookware that has silicone-wrapped handles. These will stay cooler to the touch and are easier to grip. You may also want to consider buying a cookware set with a helper handle. This will help you lift the pans more easily and give you a sense of extra balance.
What is the Best Grade of Stainless Steel For Cookware?
Stainless steel cookware comes in a variety of grades, including 304 and 316, and it is important to understand the differences between them. 316 is the highest-quality stainless steel, as it contains the highest concentration of nickel, chromium, and molybdenum. 304 is comparable to 310, but does not have as high a concentration of nickel, making it less durable and more prone to corrosion. Regardless of your personal preference, if you have food allergies, it's best to avoid the 200 and 304 grades, and stick to the higher quality 300 series instead.
Which Brand is Best in Stainless Steel?
While many consumers think of All-Clad when they think of stainless steel cookware, there are several other brands that you should consider. This popular cookware brand is made of five layers of bonded steel and aluminum, and can withstand temperatures up to 193 degrees F. This means that it will never warp, and will stay solid even at high temperatures. The sides of All-Clad pots and pans are also low, allowing you to pour liquids without spills or flipping delicate items with ease.
Final Thoughts
The best multi-ply stainless-steel cookware sets will not break the bank and will provide years of reliable use. Unlike other cookware, stainless steel will not scratch or chip, so you can feel safe using it. You can also choose from many great brands, including All Clad, Copper Chef, and Cuisinart. Listed below are some of the best multi-ply stainless-steeler sets for the money.