Updated January 12,2023
A few essential pieces of minimalist kitchen cookware include a colander, a knife sharpener, a waffle press, and a multi-function kitchen mixer.
A colander is a multi-purpose kitchen tool that can be used for a variety of tasks, such as draining pasta, cleaning products, and even roasting vegetables. Look for a five-quart metal colander.
Another key piece of minimalist kitchen cookware is a set of nesting mixing bowls. These bowls are great for mixing and serving foods, holding meat, and even grating cheese and other things.
If you're looking for the Best Minimalist Cookware, consider buying just two pieces of essential equipment. Those two items are essential for any kitchen, but you'll also need a colander for washing produce and draining pasta. You'll also want a 6-quart pot for soup or broth. For the kitchen, you may also want to invest in a nesting mixing bowl that can be used for all sorts of things, including mixing meat, holding food, and serving. Some of these appliances have switches or lids for even more uses.
1. Wusthof 6″ Classic Chef's Knife, $140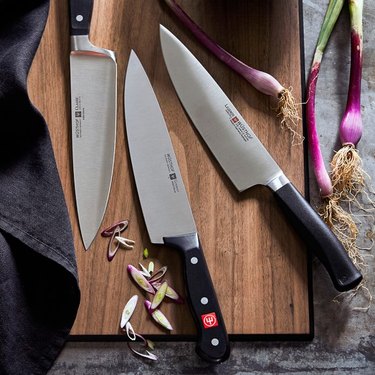 Considered indispensable by many, a chef's knife is necessary for prepping any meal that requires slicing, dicing, and chopping. This Germany-made knife boasts an ultra-sharp blade and is resistant to stains and corrosion, making it well worth the price tag.
2. Le Creuset Round Dutch Oven, from $310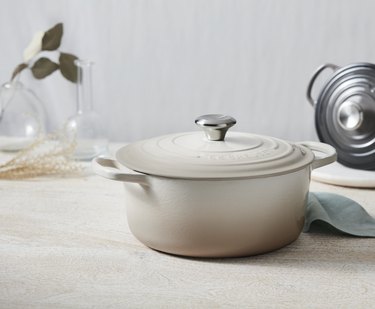 Known for its strength and durability, a cast iron dutch oven is ideal for all forms of cooking — whether it be roasting, slow-cooking, searing, or baking — because of its ability to distribute heat slowly and evenly. It's also super versatile and can be used in the oven or on the stove.
3. Menu Salt and Pepper Grinder Set, $74.95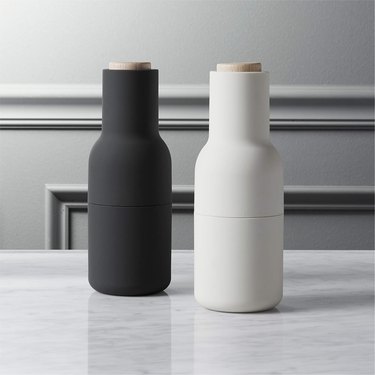 Thanks to their sleek silhouettes and muted colorways, these ceramic salt and pepper grinders will instantly bring Scandinavian vibes to your kitchen aesthetic.
4. OXO Soft Handled Can Opener, $13.99
A can opener is a must-have tool for any kitchen. This one has comfortable, slip-proof handles, doubles as a bottle cap opener, and is totally budget-friendly.
5. MadeIn Cookware 4 Quart Saucepan, from $89
This stainless steel saucepan, with its five-ply construction, heats evenly and features a long handle that stays cool to the touch. Choose from two-quart and four-quart sizes.
6. Noella Bamboo Nesting Bowl Set, $59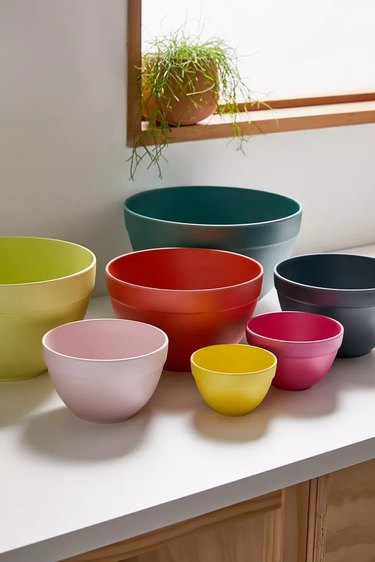 Whether you're whipping up an omelet, mixing cake batter, or passing around snacks for movie night, these bamboo mixing bowls offer a variety of sizes to suit all your needs. Also nice: They're dishwasher-safe and conveniently nest into each other, which makes storage a cinch.
7. KitchenAid Bamboo Solid Spoon, $4.99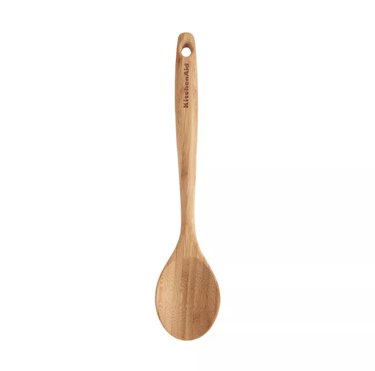 No kitchen should be without a wooden spoon. Use it to baste meats and poultry, stir soups and sauces, or rest it over the top of a pot to keep it from boiling over (pro tip!).
8. Food52 Five Two Bamboo Cutting Board, from $59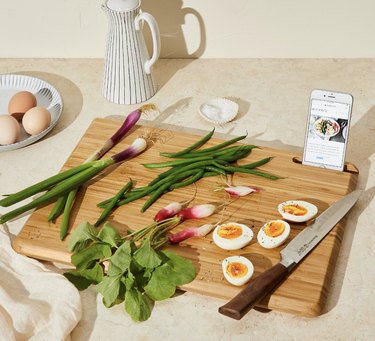 Essential to any kitchen, this cutting board is made of bamboo, which is eco-friendly, antimicrobial, and water-resistant. One side of this board features an extra-deep juice groove, while the other boasts a phone slot, so you have access to notes and recipes while you chop and cook.
9. Berghoff Mesh Colander, $39.95
Drain pasta, wash produce, steam veggies, or deep fry with this well-rounded mesh strainer. It's made of sturdy stainless steel and the grippy rubber handles guarantee it won't slip out of your hands.
10. Vive Comb Kitchen Shears, $9.99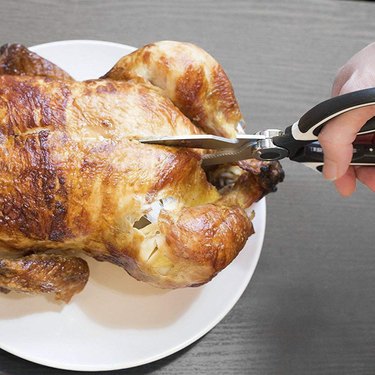 This scissor is designed with ultra-sharp blades to remove fish scales and cut through chicken bones like a pro. It also has a built-in bottle opener and nutcracker to help you pare down your kitchen tools.
11. Field Company Field Cast Iron Skillet, $125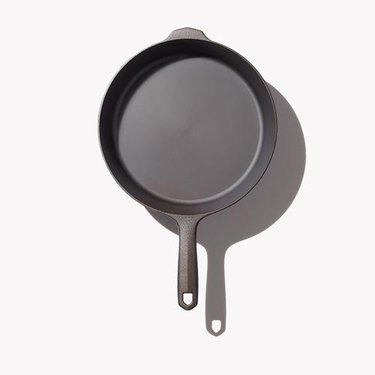 This everyday cast iron skillet is still lightweight enough to cook comfortably and features a smooth, naturally nonstick surface. It's ready to go straight out of the box and is made to last a century, meaning it gets better with time and each use.
12. De Buyer Stainless Steel Measuring Cup and Spoon Set, $25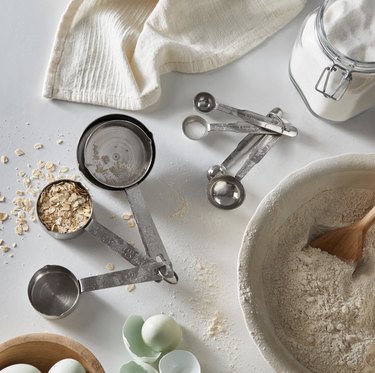 These classic measuring cups and spoons are durable, dishwasher-safe, and nest-able, so they can be stowed in your smallest kitchen drawer. As an added bonus, they also have milliliter markings on the handles to make conversions even easier.
13. Brigade Kitchen Paring Knife, $45
Designed to be precise and simple, a paring knife helps you with intricate slicing jobs. Built to last, this one from Brigade Kitchen is made of stainless steel to resist rust, stains, and corrosion.
14. Sur La Table 12″ Microplane, $15.95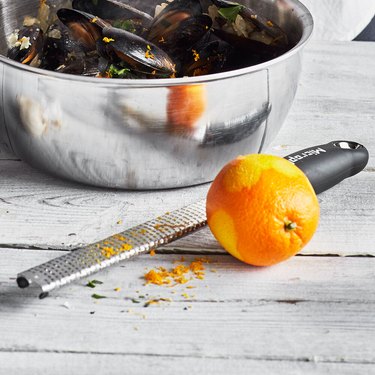 A microplane can really come in handy, whether you're zesting lemon into a smoothie, adding chocolate to a dessert, or grating parmesan over salad or pasta. Plus, the soft-grip handle delivers on comfort to protect your hand.
15. Williams Sonoma All-Clad Precision Nonstick Spatula, $37.95
Opt for an easy-to-clean, nonstick spatula like this one to help you tackle flipping pancakes, turning poultry and vegetables, and transferring items from your pan to a plate.
16. Nordic Ware Naturals Baker's Half Sheet, $11.99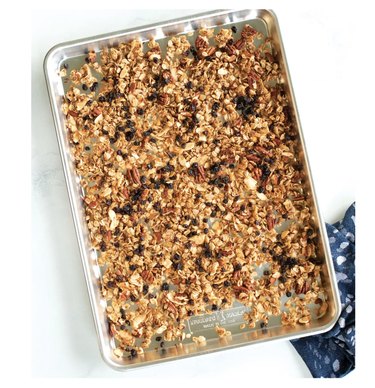 Made of long-lasting aluminum, this sheet pan is perfect for browning vegetables or baking cookies. The construction heats everything uniformly, while the light color helps to prevent burning.
Check Price On Amazon
A Minimalist Cookware Set does not have to break the bank. You can get the best cookware sets for your money and make cooking fun again. A minimal set comes with essentials like measuring spoons and cups, which otherwise would end up in the bottom drawer or piled up on top of each other. To save space in your drawer, choose Pyrex measuring cups and OXO Good Grips stainless steel measuring spoons, which nest together. You will also need a solid block or wooden cutting board, silicone hot pads, and oven mitts.
Gotham Steel
If you are looking for a basic cookware set for your kitchen, the Gotham Steel minimalist cookware set is worth considering. They're inexpensive, lightweight, and durable. Gotham Steel pans are encapsulated with a flat base, so they don't warp. The flat handles are easy to grip and stabilize with your hand, but they're not designed for standing up by themselves. Get a set of two or three if you're cooking for a large family.
T-fal
If you're interested in trying out a new cooking set but don't have much money to spend, consider the T-fal minimalist cookware set. The 17-piece hard-anodized set is affordable and backed by a limited lifetime warranty. This set offers everything you need to cook delicious, healthier meals. The set features a nonstick coating and removable handles for easy cleanup. For more information, visit the T-fal website or check out their Honey app.
Calphalon
This compact thirteen-piece Calphalon minimalist cookware set includes a stock pot and an 8-inch omelette pan. Its hard anodized aluminum construction resists warping and corrosion, and two layers of non-stick coating provide effortless cooking results. Its ergonomic handles are perfect for any level of cook, and dishwasher clean-up is a breeze. The set includes a coordinating lid and measuring spoon.
Proclamation Goods Co.
The minimalist cookware set from Proclamation includes a 12-inch skillet and 7-quart hybrid pot. Each pan is induction compatible and has a built-in hinge functionality, allowing you to use them separately or together for multiple cooking options. Proclamation's minimalist design is also a good fit for eco-conscious households, as its eco-friendly construction is made from recycled material and the company uses only non-toxic, PFOA-free paint.
Rachael Ray
If you are looking for a new set of cookware but don't want to spend too much money, Rachael Ray's minimalist cookwear set may be a great choice. It features a stylish orange handle and heats up quickly. It also features a limited lifetime warranty. You can purchase this set on Amazon for about $200. It will also withstand up to 400 degrees of heat.
If you want to keep your kitchen minimalist, you may want to consider keeping only the most essential kitchen items. In this minimalist cookware list, I'll show you how to buy the best non-stick cookware and invest in a few extras, such as a saute pan or sauce pot. In addition to the essentials, you should invest in a big cutting block, which can be stored easily. Here are some ideas for creating a minimalist kitchen that is also efficient and easy to maintain.
Kitchen decluttering
If you're working towards a minimalist kitchen, decluttering is important. Start by deciding which items you really need. If you only use certain items occasionally, it makes sense to get rid of them. You don't need to have six spatulas, or a special organizing canister. Instead, keep only one or two of each type of cooking tool. And only keep one organizing canister for all of them.
Items to keep in a minimalist kitchen
There are certain items that you can't live without in a minimalist kitchen. A microwave and dishwasher are two examples of kitchen gadgets that may seem like a necessity, but they aren't. You don't need these in a minimalist kitchen, but they can be helpful for some people. Make a list of things you use most in your kitchen, and keep only those. If you don't need certain appliances, you can always borrow them.
Must-haves for maintaining a minimalist kitchen
Among the most essential kitchen items, oil is one of the most versatile and easy to use. Olive oil is perfect for use in all kinds of dishes, including frying, sauteing, baking, and roasting. Oil is also great for frying, browning meat, keeping vegetables from sticking to pans, and cooking pasta. Olive oil is also an excellent substitute for butter for dipping bread. You can also add lemon juice or vinegar to the oil to create a dressing for salads.
Favorite items
A colander is one of the most indispensable items in the minimalist kitchen. It can be used to drain pasta, clean produce, and squeeze the moisture from squash. Get a standard five-quart size and choose a metal one over a plastic one. Another essential piece of cookware is a nesting mixing bowl. Nesting mixing bowls can be used for mixing meat, holding ingredients, and serving meals. Some have lids and switchable graters.
Caraway Cookware is made of ceramic-coated aluminum and is oven safe. It also has a ceramic non-stick coating, which means that most unwanted sticking is prevented. The set includes a wide variety of cookware pieces, including a saucepan, roaster, and frying pan. One of the main benefits of this ceramic coating is that it makes cleaning your pots and pans a breeze. Metal utensils can damage the non-stick coating, so you should use a wooden spoon to remove food.
Caraway's ceramic non-stick coating prevents most unwanted sticking
Caraway cookware is non-stick and environmentally friendly, thanks to its mineral-based ceramic coating. Unlike traditional non-stick coatings, this one is completely free of PFOAs, which release toxic fumes when they overheat. Also, unlike PTFE, Caraway's non-stick coating prevents most unwanted sticking. As a bonus, Caraway cookware works well with induction cooking.
It's made from solid aluminum
If you're looking for a set of cookware that is healthy and durable, then you should consider purchasing Caraway Cookware. This line of cookware features a non-stick exterior and stainless steel handles. The material of the cookware is aluminum, with a mineral-based ceramic coating. The material is safe to use in the oven and on stovetops of all types, including induction and gas.
It's oven safe
Caraway cookware has an enameled outer surface and stainless steel handles. This cookware is oven safe for all types of heat sources including induction and gas stoves. It retains heat well and is stovetop gnostic, meaning it can be used on both electric and gas ranges. However, you should use non-stick utensils on it as it can get hot when exposed to prolonged heat.
It's hefty
If you are interested in a good cookware set, look no further than the Caraway Cookware line. While this set includes a 10.5″ fry pan, 3.5-quart saucepan, 4.5-quart saute pan, and 6.5-quart Dutch oven, each piece is worth its weight in gold. Caraway cookware ships free in the contiguous United States. Shipping is not free internationally, though.
It's Instagram-able
If you love bright color schemes and non-stick surfaces, you'll be pleased to know that the newest addition to the Caraway family, the bakeware set, is now available. The cookware features stainless steel handles and an enameled outer surface. This cookware is oven-safe and can even be used for roasting and searing. Like its siblings, this set is stovetop gnostic – you can cook on gas, induction, and electric stovetops without worrying about sparks.
Among the best nonstick cookware sets for home use, the Gibson Soho Lounge is the most popular. Its features make it a perfect set for beginners and seasoned chefs alike. The nonstick properties of this set did not fail any of the tests and allowed eggs to slide easily around without a drop of oil on the pan. However, you can't use this set as a complete set – you'll need to purchase additional pans and pots to complete the set.
All-Clad
If you're looking to buy a high-quality cookware set, All-Clad is a great choice. Their cookware sets are durable, easy to clean, and can withstand the rigors of everyday use. The copper core in their cookware gives them an excellent thermal conductivity. You can cook safely with this material because it responds quickly to heat changes. You can't go wrong with All-Clad cookware, especially if you're considering a set for yourself or as a gift for a family member.
HexClad
HexClad is a California start-up that makes a range of innovative non-stick cooking pans. Invented by Daniel Winer and Cole Mecray, this technology combines stainless steel and non-stick surfaces for a superior cooking experience. Because the cookware is manufactured in California, HexClad has a direct-to-consumer model, so the price is less than competitors' prices.
Circulon
The Circulon Nonstick Cookware Set 2020 and 2022 are a great option if you want to cook a variety of meals and save money on the cost of buying different brands. This professional cookware set contains 13 pots and pans and a Total Food Release System. The handles are also silicone-wrapped for safety and a comfortable grip. However, there are some downsides to purchasing this cookware set, including its lack of tools.
Gibson Soho Lounge
The Soho Lounge Nonstick Cookware Set is a modern take on classic cookware. The stainless steel and aluminum set features a sleek design and five glass lids for easy viewing of food while cooking. The non-stick surface is reinforced with titanium to ensure the food releases easily. This set is safe for gas stoves, but not for induction ones. It also features an ergonomic silicone handle for ease of use.
GreenPan Revolution Ceramic Nonstick 10-Piece Set
The GreenPan Revolution Ceramic Nonstick 10-Peice Cookware Set 2023 is a high-quality set of 10-piece cooking vessels made of anodized aluminum. The set includes a stainless steel handle and lids that stay cool to the touch during cooking. The set is oven safe up to 350 degrees Fahrenheit and comes with a limited lifetime warranty. Unlike many other nonstick cookware sets, the GreenPan Revolution Ceramic Nonstick Cookware Set 2023 is dishwasher safe.
T-fal
The T-fal Nonstick Cookware Set features a variety of useful features. Its light-colored ceramic coating makes it easy to see whether the food is browning or not. The pieces of the Ultimate Hard Anodized Titanium collection feature an interior surface resembling a checkerboard, with squares of nonstick coating that are covered with anti-warping materials. The black handles of the Simply Cook collection are double riveted for added stability and the T-fal logo is recessed into the handles for an ergonomic grip.
We've all heard of the Best Cookware in the World, but how do we know which products are truly the best? Let's take a look at some of the top cookware on the market today. I'll review the most popular brands, from Iittala to Lodge to Tramontina. We'll also look at the beauty of the products, and whether they live up to their claims. After reading this article, you'll be able to choose the best cookware for your next cooking adventure.
Iittala
If you are looking for an amazing set of cookware, Iittala is a great choice. The Iittala line includes stainless steel Tools, superb cast iron designs, and even some kitchen countertop accessories. This is a company with a lot of credibility, and their work is well-known for its durability and ideas-rich designs. There is something for every taste and budget, and you can find everything you need for your next great meal right here.
Lodge
When you're on the hunt for the best skillet, you should check out the Lodge brand. This brand is well-known for its non-stick capabilities, and it also has a number of additional cookware pieces to choose from. Whether you're cooking cornbread, fried eggs, or steak, you can find the perfect skillet from Lodge. They also offer double-handed skillets and other double-handed cookware, which means you can cook for two people at once.
Tramontina
Tramontina is a Brazilian company that has been in the business for over a century. Their reputation for quality, innovation, and market leadership have earned them numerous awards. Whether you're cooking on a stovetop or in a gourmet kitchen, you're sure to find some Tramontina cookware that will meet your needs. From pans to stock pots, Tramontina has you covered.
GreenPan
There are several benefits to using GreenPan cookware. Not only do they cook faster than other cookware, they also last a long time. If you're unsure whether this cookware is right for you, read our GreenPan review to learn more about the benefits of this brand. Its high-quality ceramic non-stick pans are rated highly by multiple websites, and they can even out the heat and stickiness of your food.
Le Creuset
The design of Le Creuset cookware has earned it the praise of readers, chefs, and editors around the world. You can see Le Creuset cookware on the cover of design magazines, in the dining rooms of world-class restaurants, and in the kitchens of celebrity chefs. The renowned French brand is so popular that there are over 100 stores worldwide. In order to learn more about the brand, check out this Le Creuset cookware guide.
Scanpan
Scanpan's Classic Cookware collection is considered some of the best cookware available on the market. Among its many features, Scanpan cookware is lightweight and easy to use. Its non-stick titanium ceramic coating is durable, allowing you to use metal utensils with the pan. Another advantage is that Scanpan cookware is easy to clean. If you have a tendency to scratch your non-stick coating, you should avoid using Scanpan's Classic collection.
There are many different types of cookware available in the market today. Stainless steel is one of the most popular materials for cookware. It is an excellent heat conductor and can withstand rapid temperature changes. Stainless steel is also naturally non-stick, making it an excellent choice for cooking. Stainless steel is a little more expensive than other materials, but it offers a great food release and non-toxic properties, as it is PFOA, lead, and cadmium-free. It also keeps grease from burning and ensures a healthier cooking experience.
Aluminum
There are pros and cons to each material, so let's take a closer look at some of the most popular ones. Aluminum is the softest, most porous material and is susceptible to scorching and warping. It also heats up quickly and can transfer flavors. As a result, chefs need to keep a close eye on their meals as they cook. Because of these pros and cons, aluminum is the best material for vegetable cooking and nonstick cooktops.
Stainless steel
Stainless steel is a popular material for pots, pans, and other cookware, and it is a favorite among chefs. The exterior is incredibly resistant to oxidation, and the interior is virtually non-stick. Stainless steel pots and pans are also dishwasher safe and oven and broiler safe, which makes them an excellent choice for everyday use. The benefits of stainless steel cookware are numerous, but here are a few that set it apart from other materials.
Cast iron
If you're thinking about getting a new set of cookware, you've probably wondered if it's cast iron or nonstick. This article explores the differences between the two and provides tips for choosing the right type of cookware for your needs. If you're not sure what to look for, consider buying enameled cast iron, which is similar to nonstick cookware but is coated with a protective layer that prevents food from sticking. Enameled cast iron is more durable and requires less maintenance. You can use it for all kinds of foods, including those with high acid content, and it won't affect the taste of any of them.
Ceramic coated cookware
The ceramic coating on non-stick cookware is made of tiny mineral particles, or nanoparticles. These particles help the food in your pan stay in contact with the surface, making cooking a breeze. When food is not in contact with the surface, it does not cook evenly. The ceramic coating on non-stick cookware is made to reduce the time your food spends in the oven. It is also more energy-efficient than PTFE-based cookware, requiring only one layer of non-stick coating. Despite its many benefits, the average home cook will not notice much of a difference with 95% of the meals they prepare.
Granite
You've probably heard about the benefits of using granite as your cookware material, but what exactly does it have to offer you? Here are a few things to consider before making the decision to purchase granite cookware. Unlike non-stick materials, which mimic restaurant results, granite cookware is naturally a lot healthier for you. Teflon-coated pans are highly toxic and can peel off, releasing toxins and causing health issues. In addition to being toxic, these pans can cause food to lose its nutritional value.
If you're looking for a top-rated cookware set for 2023, there are a few things that you should know. In this article, I'll discuss which sets are worth the money, including the Anolon Nouvelle Copper Hard Anodized Nonstick Cookware Pots and Pans Set. These pots and pans are made of high-quality materials that will last for years. These pots and pans have a nice collection of sizes and styles.
All-Clad HA1 Hard-Anodized Nonstick Cookware Set
The All-Clad HA1 Hard-Anodized Nonstick Cookware Set 2023 combines the quality of All-Clad with the convenience of nonstick cooking. This cookware set features a thick-gauge hard-anodized aluminum construction for even heating and a PFOA-free nonstick coating to ensure easy food release. In addition to dishwasher-safe convenience, this cookware set also features induction compatibility and warp-resistant strength. This set comes with a 10″ fry pan and a four-quart sauté pan with a lid.
When comparing the two All-Clad collections, keep in mind the steep sides of the HA1 collection. These sides make transferring food easier, but they also reduce the amount of splatter. While the HA1 set comes with steep sides, the B1 set features less vertical sides and flared rims. Which one will best fit your needs?
Cuisinart MCP-12N Multiclad Pro Stainless Steel 12-Piece Set
The Cuisinart MCP-12N Multiclod Pro Stainless Steel 12-Pieces Cookware Set is a fantastic set of stainless steel cookware that comes with a variety of essentials for your kitchen. The set includes a stainless steel pot and pan set, a steamer insert, and a lid for added convenience. Cuisinart cookware is a trusted name in the world of kitchenware, and this set is no exception.
The Cuisinart MCP-12N Multi-Clad Pro Stainless Steel 12-Pieces Cookware Set has a list price of $670, but you can purchase it right now for just $299. That's 55% off the regular price! You can get this set for just $240, saving you a total of $430.
HexClad
Designed with a three-ply, hexagonal construction, HexClad cookware is non-stick and dishwasher safe. The innovative design allows for even heating and includes a patented hybrid surface. These non-stick pans can handle temperatures up to 500 degrees Fahrenheit and have tempered glass lids for added safety. They are manufactured in China and designed in Los Angeles. Each piece of HexClad cookware is oven safe to 500 degrees.
The innovative design of the HexClad cookware set is a key factor in its versatility. It combines the best features of aluminum, stainless steel, and ceramic coating in a single set. It also features a unique laser-etched design to help prevent peeling. In addition to the dual-layer coating, the cookware has a textured interior with a herringbone pattern for even cooking.
Caraway
The Caraway Cookware Set 2023 is a good option for the home chef who wants to cook without sacrificing durability. It features four pieces: an 8-inch fry pan, a 9.5-inch fry pan, a 11-inch fry pan, a 6-quart stockpot, and a 4-quart deep-cooker saute pot. Additionally, the cookware set features three bamboo kitchen instruments and a durable titanium-coated ceramic non-stick coating. This non-stick coating prevents food from sticking to the pan, and its high-heat resistance means it is safe to use over a range of temperatures.
In addition to its attractive design, the Caraway cookware is environmentally friendly. It produces 60 percent fewer CO2 emissions than conventional non-stick pans. Besides being aesthetically pleasing, it also makes clean-up a breeze. With so many benefits, this set should be your next kitchen accessory. You'll be glad you invested in it. You'll be happy with it for many years to come. A little bit of research will show that the set is worth its price.
The best nonstick cookware set for the average home will include a multipurpose 12-inch saute pan, a 3-quart covered casserole pan, and a 4.75-quart covered saucepot. It's not a large set and can be used in the oven up to 350 degrees F. But if you want a smaller set, you may want to go for the All-Clad 10-piece set.
GreenPan's nonstick coating is free of PFOA, PFAS, cadmium, and lead
GreenPan cookware is made with thermolon ceramic coating, which resists high heat without peeling or blistering. Its excellent thermal conduction ability also helps you cook food at low to medium temperatures, thus reducing energy consumption. Unlike traditional nonstick coatings, GreenPan's nonstick coating is made from silicon, not silicone. It also uses upcycled stainless steel and aluminum.
Scanpan's nonstick coating is made from 100% recycled aluminum
Scanpan is an environmentally friendly company that uses 100% recycled aluminum in its nonstick coating. This makes their cookware safer than other brands. Although no company can completely eliminate the use of PFOA and PTFE, ScanPan makes a good alternative. The company is committed to helping the environment, and its products do not contain PFOA or PTFE. Listed below are some advantages to ScanPan.
Scanpan's 12-inch covered pan
The Scanpan Classic 12-inch covered pan nonstick cookware set is made from 100% recycled aluminum, a material that is not lightweight, but does work well. The aluminum base makes the Scanpan Classic heavy, so tossing food with one hand will be a bit of a challenge. The nonstick coating on the pan is made with Stratanium, so it should last a long time. It is durable and does not scratch easily, but small scratches are nothing to worry about because they do not affect the cooking performance.
All-Clad's 10-piece set
Among the top-rated cookware sets, All-Clad's 10-piece set is the Copper Core collection, with its incredibly attractive design and performance. Its copper core, however, makes it a more difficult product to use for the first time; it requires some skill to cook with, and it is the most expensive set. The Copper Core collection is also more expensive than All-Clad's other sets, but it's well worth the price.
Calphalon's 10-piece set
Whether you are a first-time cook or an expert, Calphalon's 10-piece nonstick cookware set is a fantastic choice. It's dishwasher-safe, features a hard-anodized aluminum body, and is easy to clean. Its 3-layer non-stick coating and "Sear" surface make meal preparation easier than ever before. The 10-piece set has a price tag that may seem steep at first, but it is well worth the investment.
FAQs
What kind of cookware is best for everyday use?
You can buy nonstick pans in any store, but the next step is dishwasher-safe ones. While many brands claim to be dishwasher-safe, the fine print suggests handwashing. Stainless steel pans can be sanitized in the dishwasher, but they're generally not dishwasher safe. Cuisinart makes an 11-piece cookware set that can be washed and reused many times. Its nonstick properties prevent hotspots and make it easy to clean.
What cookware does Gordon Ramsay use?
If you're wondering what type of cookware Gordon Ramsay uses, you're not alone. Stainless steel pans are one of his top choices because they distribute heat evenly and eliminate hot spots, which can make cooking more difficult. With the even heat distribution, you can control the temperature better and brown your food to perfection. Stainless steel pans also tend to be durable, so you can use them for long periods of time without worrying about rust or corroding.
What should you have in a minimalist kitchen?
If you're on a budget, it's tempting to buy everything in sight. But it's important to be realistic. How many items do you actually need? How many are you willing to give up to make your kitchen look its best? The answer will depend on how small or large your kitchen is. Here are some things to think about before making the switch. Using multi-purpose tools makes your life easier. Minimalist kitchens tend to be spartan, so you'll need to avoid flimsy, cheap tools that are only good for a few uses.
What is the most versatile cookware?
Buying a great set of cookware is an excellent investment, but figuring out which ones are best for you is no easy task. Depending on your cooking needs, the number of people you cook for, and your level of experience, you may need different kinds of pans. Once you have determined what your needs are, you can pick out the basic pieces and then invest in specialty pans as you need them.
Do professional chefs use non-stick pans?
A common question many consumers ask is: Do professional chefs use non-stick pans? The answer to this question varies, but in general, professional chefs don't use non-stick pans. They use various kinds of cookware. The main difference between professional and amateur cookware is the type of cooking surface. Non-stick pans heat up more slowly, and they have uneven heat distribution. This means your food will not cook evenly.
What pans are the most versatile and best for beginner cooks?
If you're new to cooking, you may want to look at a few pans to get started. While you can get by with aluminum and stainless steel pans, you can also try copper or cast iron. Copper and stainless steel are affordable and display-worthy, while cast iron is indestructible. Stainless steel is the most durable type of cookware. Here are some of the advantages of each type.
Final Thoughts
One of the ten essentials for a minimalist kitchen is a colander. You can use a colander to clean produce, squeeze the moisture out of squash, and drain pasta. The colander should be a standard five-quart size and made of metal rather than plastic. Also, you should invest in a nesting mixing bowl, which is a multipurpose kitchen tool that can be used for many things, including mixing meat and vegetables, holding foods, and serving food. You can find some nesting bowls that have lids and switchable graters, which are especially handy.