For making perfect crepes, the best cookware is a non-stick pan with low sides. It allows for easy flipping and even cooking of the delicate crepe batter.
As crepes are a delicate and thin french pancake, the right cookware can make all the difference in the cooking process. While many different types of pans can get the job done, a non-stick pan is the most popular option.
With its smooth surface, it helps prevent crêpes from sticking and tearing apart, while its low sides help ease the flipping process. Additionally, crepe pans often feature a wider-than-usual base, distributing heat more evenly and ensuring an even cooking. In this article, we will discuss the different types of cookware suitable for crepe making, their benefits and drawbacks, and offer some tips on how to choose the best crepe pan for your needs.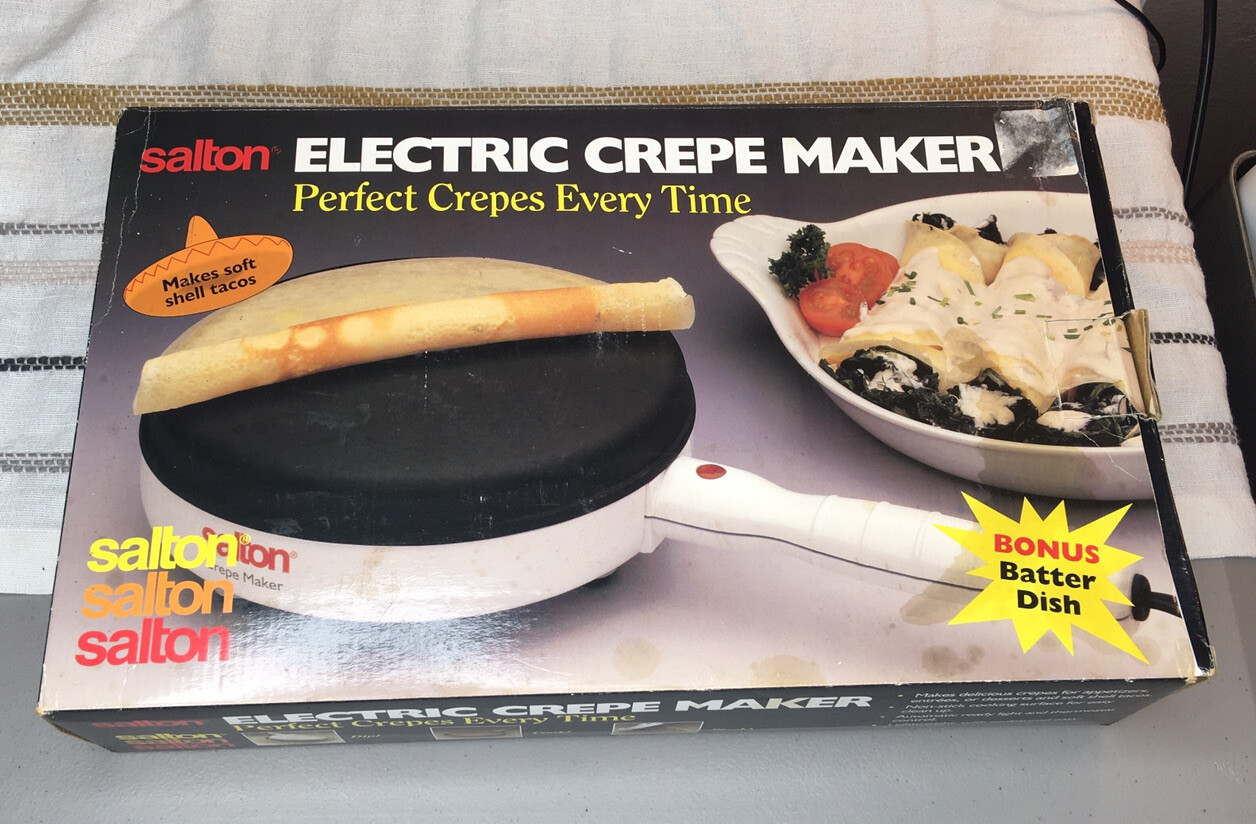 Credit: www.ebay.com
Why Good Cookware Is Important For Perfect Crepes
The Role Of Cookware In Crepe-Making
Whether you are a seasoned chef or a novice cook, you know that using the right cookware is crucial in preparing any dish. This statement holds even more weight when it comes to making crepes. A thin, delicate pancake that requires precision and finesse, crepes can be tricky to master.
However, with the correct cookware, you can elevate your crepe-making experience to new heights.
How Good Cookware Can Improve Your Crepe-Making Experience
Good quality cookware helps to cook crepes evenly, consistently and avoid burning. Here are some reasons why you should choose the right cookware for making crepes:
Material matters: The material of your cookware can have a significant impact on the overall texture and taste of your crepes. For example, porous materials, like cast iron, can absorb oil and create a crusty texture, while non-stick coating allows for smoother surfaces. Therefore, choose non-porous and lightweight materials that are quick to heat up, like aluminum or stainless steel.
Heat distribution: Crepes cook quickly and require consistent heat so that they do not burn. After all, there's nothing more disappointing than having burnt edges or patches where the batter didn't cook. Look for cookware with an even heat distribution that quickly heats and cools down. Copper and aluminum are excellent heat conductors and allow crepes to cook evenly.
Size matters: When making crepes, the size of your cookware matters. Opt for crepe pans that are between 9 to 10 inches in size so that when it's time to flip the pancake, you can do so with ease. A pan that is too small will restrict the movement of the crepes, and a pan that is too large will create difficulty in flipping the crepe without breaking.
When you invest in good quality cookware, it can make all the difference in your crepe-making experience. It can help you make the perfect crepes that are soft, delicious, and evenly cooked.
Essential Features Of The Best Crepe Pans
The Perfect Size And Shape For Crepes
The best crepe pans come in different sizes and shapes, but some are specifically designed to make perfect crepes. The size and shape of the pan affect the size and shape of the crepes. Here are the essential features to look for:
Opt for a pan with a flat and shallow surface area of around 8 to 10 inches in diameter.
Choose a pan that has rounded edges to prevent crepe batter from accumulating on the sides and making it difficult to remove the crepes.
Ensure the pan has low sides, allowing crepes to be easily flipped without breaking.
Non-Stick Surfaces For Easy Flipping And Cleanup
Flipping crepes requires skill, and a non-stick surface can simplify this process as well as clean up. Here are some key points to understand about non-stick surfaces:
A non-stick surface allows crepes to be quickly released from the pan without the need for oil or butter.
Non-stick surfaces can be damaged by abrasive scrubbers or high heat, so use soft sponges and low to medium heat.
Consider using pans with ptfe-free, ceramic coatings. They are eco-friendly and safe to use even at high temperatures.
Heat Distribution For Even Cooking
Consistent heat distribution improves the flavor and texture of the crepe, and this is why it is essential to consider the heat distribution capabilities of the pan. Here are some key points to consider:
Look for pans with a heavy base to distribute heat evenly throughout the pan.
Avoid pans with hot spots, which can cause crepes to cook unevenly.
Consider investing in a copper or aluminum crepe pan, as they are excellent heat conductors that offer even heat distribution.
The best crepe pans must have essential features such as the right size and shape, non-stick surfaces, and even heat distribution. Once you find a pan with these features, making delicious crepes will become simple, even for the novice cook.
Types Of Crepe Pans
Traditional Cast Iron Crepe Pans
Cast iron crepe pans have been used for centuries and are still a popular choice among seasoned chefs. Here are some key points to consider before purchasing a traditional cast iron crepe pan:
Cast iron retains heat well, making it ideal for cooking crepes evenly.
These pans are durable and can last for years if properly maintained.
Cast iron pans need to be seasoned before use to prevent food from sticking to the surface.
These pans can be heavy and take some time to heat up, so you should be prepared to work with them accordingly.
Modern Non-Stick Crepe Pans
Non-stick crepe pans have become increasingly popular in recent years due to their ease of use and convenience. Here are some points to consider before purchasing a modern non-stick crepe pan:
Non-stick pans are ideal for making thin, delicate crepes as they prevent sticking and tearing.
These pans usually feature a non-stick coating that can wear out over time, so you should be prepared to replace them every few years.
Non-stick pans are lightweight and heat up quickly, making them a popular choice among home cooks.
These pans can be prone to scratches and should be taken care of accordingly to avoid damage to the surface.
No matter which type of crepe pan you choose, it's essential to maintain it properly to ensure it lasts for years to come. Happy crepe-making!
How To Choose The Right Crepe Pan For You
Understanding Your Cooking Needs And Preferences
Before you start searching for the best crepe pan, it's essential to understand your cooking needs and preferences. Here are some key factors to consider:
Do you want a non-stick or stainless steel crepe pan?
What size crepe pan do you need?
Do you prefer a pan with sloping sides or a flat bottom?
Do you plan to use the crepe pan for other recipes?
Evaluating Your Kitchen Setup And Storage Space
When choosing a crepe pan, another crucial factor to consider is your kitchen setup and storage space. Here are some things to keep in mind:
Do you have enough storage space to accommodate a new pan?
What type of cooktop do you have, and does the crepe pan work well with it?
What is the weight of the crepe pan, and is it easy to handle?
Do you want a pan that's oven safe?
Overall, choosing the right crepe pan can make all the difference in your crepe-making experience. Take the time to assess your needs and preferences, as well as your kitchen setup and storage space, to find the perfect pan for you.
Tips For Using And Maintaining Your Crepe Pans
Proper Seasoning And Care For Cast Iron Crepe Pans
Cast iron crepe pans are renowned for their ability to deliver authentic, delicious crepes. It is important to take proper care of them to ensure their longevity and performance. Here are some tips on seasoning and maintaining your cast iron crepe pans:
Seasoning your cast iron crepe pan: Before first use, preheat your oven to 375°f. Rub a thin layer of vegetable oil on the pan's cooking surface and heat in the oven for 30-45 minutes. Turn off the heat and let the pan cool completely before wiping off any excess oil. Repeat the process once a year or as needed.
Cleaning your cast iron crepe pan: After use, clean the pan with hot water and a stiff brush. Avoid using soap and steel wool as it can damage the seasoning. Dry the pan completely to avoid rusting.
Storing your cast iron crepe pan: Store your pan in a dry place, preferably with a paper towel or cloth to prevent moisture buildup. Avoid storing it in a damp or humid location.
Cleaning And Storage For Non-Stick Crepe Pans
Non-stick crepe pans are convenient and easy to use, but they require proper cleaning and storage to maintain their non-stick properties. Here are some tips for cleaning and storing non-stick crepe pans:
Cleaning your non-stick crepe pan: After use, let the pan cool completely before washing it in warm, soapy water. Avoid using metal utensils, abrasive sponges, or scouring pads as they can damage the non-stick coating. Instead, use nylon or silicone utensils and a soft sponge. Rinse the pan thoroughly and dry it completely before storing.
Storing your non-stick crepe pan: Store your pan in a dry place, away from other objects that can scratch the non-stick coating. You can stack multiple pans by placing a paper towel or cloth between them. Avoid stacking heavy objects on top of the pan as it can deform the shape and damage the coating.
By following these tips, you can ensure that your crepe pans last for many years and provide you with delicious crepes every time. Remember to season and clean your cast iron pan properly, and avoid using metal utensils or abrasive sponges on your non-stick pan.
With proper care, your crepe pans will become your go-to tool for making perfect crepes every time.
Conclusion: Invest In Quality Cookware For Perfect Crepes Every Time!
Whether you're a seasoned chef or an amateur cook, you know that crepes are a staple in french cuisine. Delicate and flavorful, these thin pancakes can be filled with a variety of sweet or savory ingredients, making them a versatile and delicious meal option.
But if you want to make perfect crepes every time, investing in high-quality cookware is essential. Here's a recap of why good cookware is crucial for crepes and some top-quality pans to try out.
Recap Of The Importance Of Good Cookware For Crepes
Plain paragraph: crepes are a delicate dish that requires precision and technique when cooking. The right cookware can make all the difference in the quality of your finished product, from the thickness and texture of the crepe to how evenly it's cooked.
Poor quality pans can result in crepes that are too thick, burnt or unevenly cooked, ruining what could have been a fantastic meal.
Bullet points:
Good crepe pans have a smooth and non-stick surface that ensures your crepes won't stick or tear.
High-quality pans are made with materials that help to distribute heat evenly across the surface, preventing hot spots and ensuring perfect cooking.
The right size and shape of your cookware are also essential. A pan that is too small or too shallow can result in crepes that are too thick, while a pan that is too large or deep can make it tricky to flip your crepes.
Recommendations For Top-Quality Crepe Pans To Try Out
Bullet points:
De buyer mineral b element iron crepe pan: Made in france, this pan is designed with a smooth surface and excellent heat distribution, making it easy to use and perfect for making crepes.
Le creuset toughened non-stick crepe pan: With a durable non-stick coating and a large surface area, this pan is perfect for making larger crepes. Its hard-anodized construction also ensures superior heat distribution.
Scanpan classic crepe pan: Made from high-quality aluminum, this pan distributes heat evenly across the cooking surface, ensuring crepes are always uniform in thickness. Its non-stick surface is also easy to clean.
Calphalon contemporary crepe pan: Made with heavy-gauge aluminum and a non-stick surface, this crepe pan heats up quickly and is perfect for making restaurant-quality crepes right at home.
Investing in good quality cookware is essential if you want to create perfect crepes every time. Remember to choose a smooth, non-stick surface, even heat distribution, and the right size and shape of the pan. With these recommendations, you're sure to find the perfect crepe pan for your kitchen and the perfect recipe to impress your family and friends.
Frequently Asked Questions Of What'S The Best Cookware For Making Crepes?
What Is The Best Material For Crepe Pans?
Nonstick pans work best for making crepes because they prevent sticking to the pan's surface. Materials such as aluminum, ceramic, and carbon steel are also popular for their heat conductivity.
What Size Crepe Pan Should I Get?
Choose a pan that's at least 8 inches in diameter. However, a 10-inch pan might be a more practical choice as it provides enough space to work with, prevents batter overflow, and gives evenly cooked crepes.
Can I Use A Regular Frying Pan To Make Crepes?
Yes, you can use a regular frying pan to make crepes. However, crepe-specific pans are preferred as they have a flatter and wider surface, which allows for better control and even cooking.
How Do I Maintain My Crepe Pans?
Cleaning and maintaining your crepe pans will ensure they last longer. Hand wash them with warm soapy water using a soft sponge. Avoid using abrasive cleaners or metal spatulas that can scratch the non-stick surface.
Can I Make Sweet And Savory Crepes In The Same Pan?
Yes, you can make both sweet and savory crepes in the same pan. Just make sure to clean the pan completely before starting a new recipe. Also, adjust the seasoning accordingly if you don't want any flavor overlap.
Conclusion
After examining the different types of cookware suitable for making crepes, it is clear that the best option is non-stick pans made of stainless steel with copper or aluminum cores. These specific materials and designs provide the necessary qualities of even heat distribution, heat retention, and easy flipping.
While cast iron pans and traditional crepe pans may be popular choices, they have their limitations and require more maintenance. Investing in a high-quality non-stick pan may be more expensive initially, but it will provide long-term value and versatility for a variety of cooking needs.
Ultimately, the choice of cookware for making crepes comes down to personal preferences and what works best for your skills and budget. Whatever the choice, using the proper tools can elevate the cooking experience and bring delicious crepes to the table.