Choose the right cupcake mold by considering the size, material, shape, and ease of cleaning. Cupcake molds come in a variety of sizes, materials, and shapes.
Some molds are made of silicone, metal, or even paper. The shape of the mold will dictate the final appearance of your cupcakes. If you're looking for a mold that will last for a while, go for one that is dishwasher safe and can be reused.
Choosing the perfect cupcake mold can make all the difference in the appearance and taste of your cupcakes. In this article, we'll guide you through the factors you should consider when choosing a cupcake mold.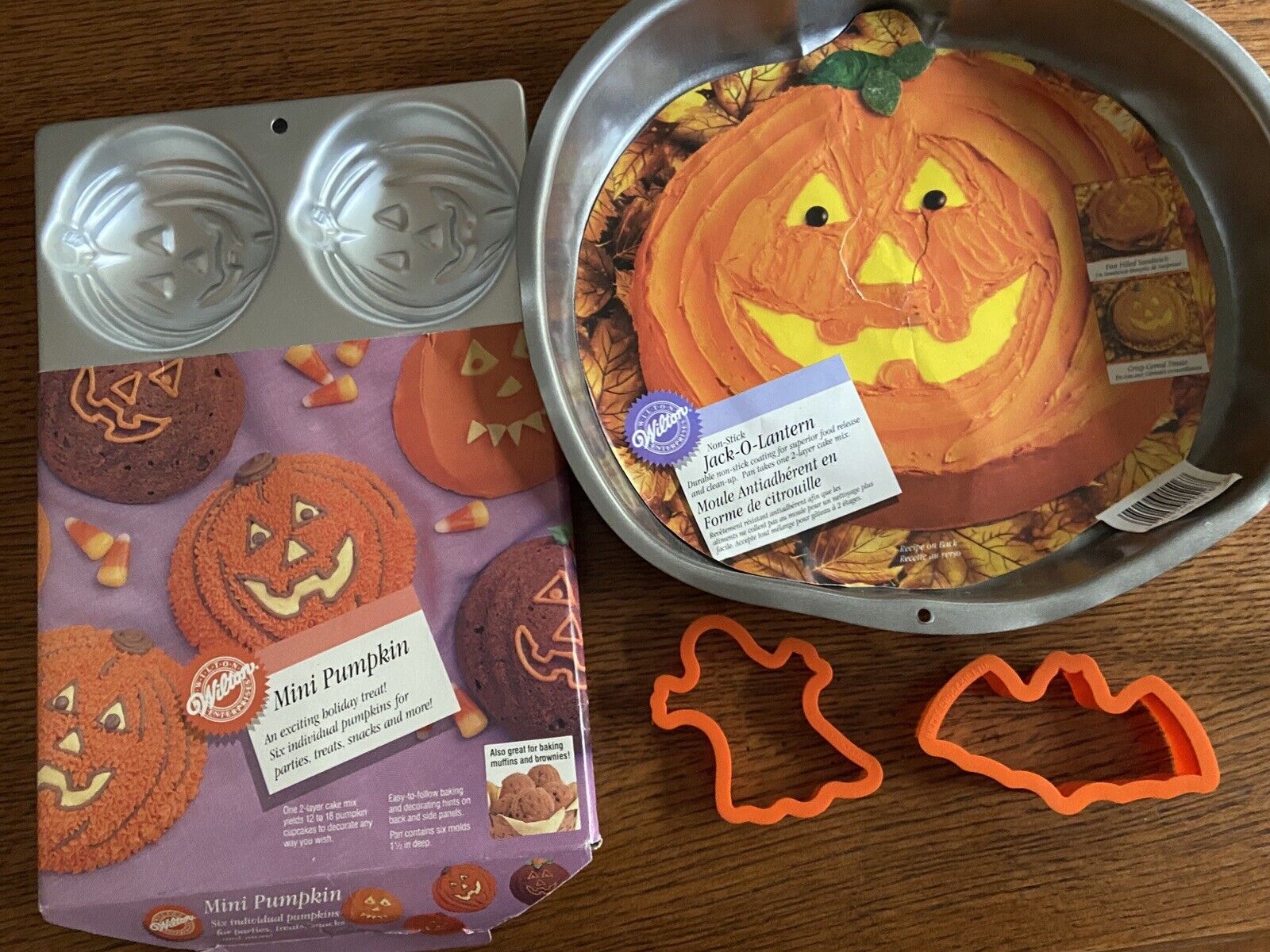 Credit: www.ebay.com
Types Of Cupcake Molds
Metal Cupcake Molds
Metal cupcake molds are a popular choice for many people. Here are some key points to consider when choosing metal cupcake molds:
They are usually made of aluminum or steel and are durable enough to last a long time.
They distribute heat well, which helps to evenly cook your cupcakes.
They come in various shapes and sizes, such as mini-cupcake molds or larger jumbo cupcake molds.
They are generally easy to clean, either by hand or in a dishwasher.
Silicone Cupcake Molds
Silicone cupcake molds are another great option to consider. Here are some key points to keep in mind when choosing silicone cupcake molds:
They are made of food-grade silicone, which means they are safe to use for baking.
They come in various colors and shapes, allowing you to choose a mold that reflects your personality or the occasion.
They are typically non-stick, which means your cupcakes will be easy to remove from the mold without falling apart.
They are flexible, making it easy to pop your cupcakes out of the mold once they are done baking.
Paper Cupcake Molds
Paper cupcake molds are the most commonly used cupcake mold, mostly due to their convenience. Here are some things to consider when choosing paper cupcake molds:
They are usually made of grease-proof paper, which helps to prevent the cupcakes from sticking to the mold.
They come in various designs and styles, such as spiral or ruffled edges, to add creativity to your baking.
They are disposable, making them easy to dispose of without needing to clean.
They require no preparation before use, simply place them in a cupcake tin and begin your baking.
When choosing a cupcake mold, consider the occasion, the type of cupcakes you want to make as well as your personal preferences. By considering all these factors, you can choose the perfect cupcake mold for your baking needs.
Factors To Consider When Picking Cupcake Molds
Choosing a cupcake mold seems like a simple task, but there are several factors to consider. We'll dive deep into the key features to keep in mind when picking the right cupcake mold for your needs.
Size And Shape Of The Cupcake Mold
The size and shape of the cupcake mold you choose can make or break your baking experience. Here are a few things to think about before making a purchase:
Cupcake size: Standard cupcake molds usually hold around 2-3 oz of batter, while jumbo or mini sizes can hold more or less, respectively. Determine what size of cupcakes you want to make before selecting your mold.
Shape: Cupcake molds come in various shapes, such as round, square, or rectangular. Consider the occasion and what kind of cupcakes you want to make to choose the perfect shape for your mold.
Material: The material of the cupcake mold will also affect its size and shape. Some materials can handle unique shapes or sizes better than others.
Material Of The Cupcake Mold
The materials used to make cupcake molds influence how well they conduct heat, release cupcakes, and how sturdy they are overall. Here are a few materials that are commonly used and their pros and cons:
Silicone: Silicone molds are flexible, dishwasher safe, and often come in unique shapes. However, they may need extra support and can retain odor.
Metal: Non-stick metal molds make it easy to release cupcakes and clean up quickly. However, they can scratch and rust over time.
Paper: Paper molds are disposable, making it easy to bake and give away cupcakes as gifts. But they often need a muffin pan for support and are not reusable.
Quantity And Durability Of The Cupcake Molds
The quantity and durability of the cupcake mold you choose should reflect how often you plan to bake and for how many people. Here are a few things to keep in mind:
Quantity: Cupcake molds usually come in sets of 6, 12, or 24. Determine how often you want to bake and how many people you'll be serving to select the right quantity.
Durability: Some molds may be used for a few baking sessions, while others can last for years. If you plan to bake frequently, consider investing in high-quality molds that are built to last.
When selecting a cupcake mold, pay attention to size, shape, material, quantity and durability. By keeping these factors in mind, you can make an informed decision that will provide you with the perfect cupcakes every time.
Tips For Choosing The Perfect Cupcake Mold
If you want to bake perfect cupcakes, the right mold can make all the difference. With so many types and brands available, choosing the right cupcake mold can be overwhelming. Here are some tips to help you select the perfect mold for your baking needs:
Matching The Mold With The Baking Recipe
Consider the size and shape of the mold when choosing one for your baking recipe, especially if you are following a recipe that specifies a particular type of mold.
Silicone molds are flexible and non-stick, making them a good choice for cupcakes or other baked goods that require easy release or delicate shapes.
Metal molds are durable and come in a wide range of shapes and sizes. They are a good choice for cupcakes with a harder texture and those that require a longer bake time.
Paper cups, though not a mold, are another alternative when baking cupcakes. They are convenient, easy to use and disposable.
Researching Different Brands And Types Of Molds
Invest in good quality molds, from reputable brands, for getting consistent results.
Consider the amount of cupcakes you intend to bake; a high-quality metal mold is recommended for frequent baking.
Non-stick molds can vary in quality, spending more on a high-quality material means it lasts longer and is a good investment.
Considering Personal Preferences And Baking Needs
Think about the types of cupcakes you like to bake, such as traditional, mini or jumbo, and choose a mold that fits your personal preference.
Consider the durability of the mold for your intended use.
Consider any additional needs, such as multi-use, dishwasher safe, stackable for easy storage, temperature safe, microwave safe and more.
Choosing the perfect cupcake mold may seem daunting at first, but with these tips, you'll be able to pick out the perfect mold for your baking needs. Happy cupcake baking!
Frequently Asked Questions Of How To Choose A Cupcake Mold?
What Are The Different Types Of Cupcake Molds Available In The Market?
There are silicone, metal, glass, and paper cupcake molds available. Each type has its pros and cons, so choose according to your preference.
How Do I Choose The Right Size For A Cupcake Mold?
Consider the standard size of cupcakes in your region and match it with the mold size. If you prefer mini or jumbo cupcakes, choose molds accordingly.
What Is The Best Material For A Cupcake Mold?
Silicone molds are flexible, non-stick, and easy to clean, making them a popular choice. However, metal and glass molds are also durable and have their advantages.
How Many Cupcake Molds Do I Need?
It depends on your needs. If you're baking for a small family, two to four molds are enough. For a larger gathering, you'll need more molds.
Can I Use Cupcake Molds In The Microwave?
Yes, you can use some cupcake molds, such as silicone molds, in the microwave. However, metal molds are not microwave safe. Always check the label before use.
Conclusion
After going through this comprehensive guide on how to select the best cupcake mold, you should be confident to choose the ideal one for your baking needs. Remember to consider your baking experience, required cupcake size and shape, material, evenness of heat distribution, ease of cleaning, and, most importantly, your budget.
Also, ensure that you invest in molds made from top-quality materials and from reputable manufacturers. By following these tips, you will be able to enjoy baking perfect cupcakes time and time again. And better yet, delightful cupcakes that will wow your family, friends, and customers.
Happy baking!