Greenpan cookware is highly praised for its excellent quality, durability and design. It offers a variety of non-stick products ranging from skillets to woks that are made with innovative Thermolon ceramic non-stick coating. This coating is free of potentially toxic chemicals such as PFOA, PFAS and lead.

Greenpan Cookware Reviews:Reviews indicate that Greenpan cookware has superior heat distribution compared to other brands' pans, providing even heating and consistent cooking performance. The handles on the pots and pans are ergonomically designed and stay cool during use. Additionally, the cookware is oven safe up to temperatures of 450 degrees Fahrenheit (232 Celsius).

Many reviewers report that the food slides off easily when cooked in Greenpan Cookware due to its effective nonstick surface making it easy to clean. Overall, customers rate this brand highly for its reliable performance while also being eco-friendly and durable over time.
@AmericasTestKitchen recommended the nonstick GreenPan Valencia Pro | Here's my review
Greenpan cookware reviews are glowing from consumers who have switched to this non-toxic and eco-friendly line of products. Not only do they offer a healthier cooking experience, but also provide exceptional performance and durability. Many reviewers love the even heat distribution that allows them to brown their food evenly without burning it, as well as the no-fuss cleanup thanks to its nonstick ceramic coating.

With Greenpan's wide variety of sizes, shapes and styles of cookware, there is something for everyone!
Greenpan Complaints
Greenpan is a company that produces ceramic cookware, and while they have many satisfied customers, some people have experienced issues with their products. Common Greenpan complaints include pans wearing out quickly, handles becoming loose or breaking off, and lids not fitting properly. While the company does offer a warranty on their products for up to 25 years in certain circumstances, some people still feel dissatisfied with their experience due to these common issues.
Greenpan Lawsuit
Greenpan, a cookware company, was recently sued in the Southern District of New York by consumers who allege they were misled into buying toxic pans. The lawsuit claims that Greenpan marketed its non-stick ceramic cookware as being free of harmful chemicals and more healthful than traditional Teflon-coated pans. However, the plaintiffs say that independent tests revealed high levels of PFOA (perfluorooctanoic acid) — a chemical known to cause cancer and other serious health problems — in some of their products.

As a result, they are seeking damages for false advertising and unfair competition.
Greenpan Comparison Chart
Greenpan is a cookware brand renowned for its non-toxic, ceramic-based nonstick coatings. To help you choose the right Greenpan products for your kitchen needs, there are several comparison charts available online that give an overview of the different cookware lines and their features. These comparison charts provide information on construction material, coating type, oven safe temperature range, dishwasher safety and other important factors to consider when purchasing Greenpan products.
Greenpan Frying Pan
Greenpan is a revolutionary cookware brand that offers healthier cooking options for consumers. Their signature frying pan is made from a ceramic-based non-stick coating which contains no PFOA, PFAS, lead or cadmium and provides an excellent way to reduce fat and oil usage in the kitchen. The interior of this pan also features Thermolon™ Infinity – an advanced technology with superior heat conduction and retention capabilities.

This means you get evenly cooked food with less effort required!
Greenpan Reserve Reviews
Greenpan Reserve cookware has been consistently praised for its quality and performance. Its non-stick surface is made with Thermolon Infinity, a ceramic coating that provides excellent heat distribution and is free of harmful chemicals like PFOA, PFAS, cadmium and lead. In addition to being safe to use on all cooking surfaces, the pans are also oven-safe up to 600°F (316°C).

Reviews indicate that food slides off the pan easily without sticking or burning, making it perfect for everything from scrambled eggs to stir fries. Customers report that Greenpan Reserve cookware holds up very well over time with minimal scratching or discoloration. All in all, Greenpan Reserve reviews show this range of pots and pans offers great value for money with top-notch performance.
Greenpan Paris Pro
The Greenpan Paris Pro collection is an excellent choice for anyone looking to upgrade their cookware. Featuring Thermolon Infinity ceramic non-stick technology, this line of pots and pans offers superior performance, durability and ease of use. The surface won't blister or peel like other coatings, so you can enjoy a lifetime of healthy cooking without having to worry about nasty chemicals leaching into your food.

Plus, the stainless steel handles stay cool even when heated on the stovetop so you don't have to worry about burning your hands.
Is Greenpan Safe
Greenpan is a safe and healthy cookware option. The non-stick ceramic coating used in these pans does not contain any toxic chemicals like PFOA, which can be found in other non-stick materials. The material also doesn't emit fumes when heated up, preventing the release of harmful carcinogens into the air.

Furthermore, it's oven-safe up to 580°F so you don't have to worry about it damaging your food or releasing dangerous toxins while cooking.
Greenpan Rio Reviews
The Greenpan Rio cookware set is widely praised for its performance, quality, and durability. Customers report that the pieces heat evenly, hold up well to daily use, and are easy to clean. The non-stick ceramic coating ensures food releases from the pan easily and makes cleanup a breeze.

With many positive customer reviews and a lifetime warranty backing it up, this set is sure to be an essential part of your kitchen for years to come!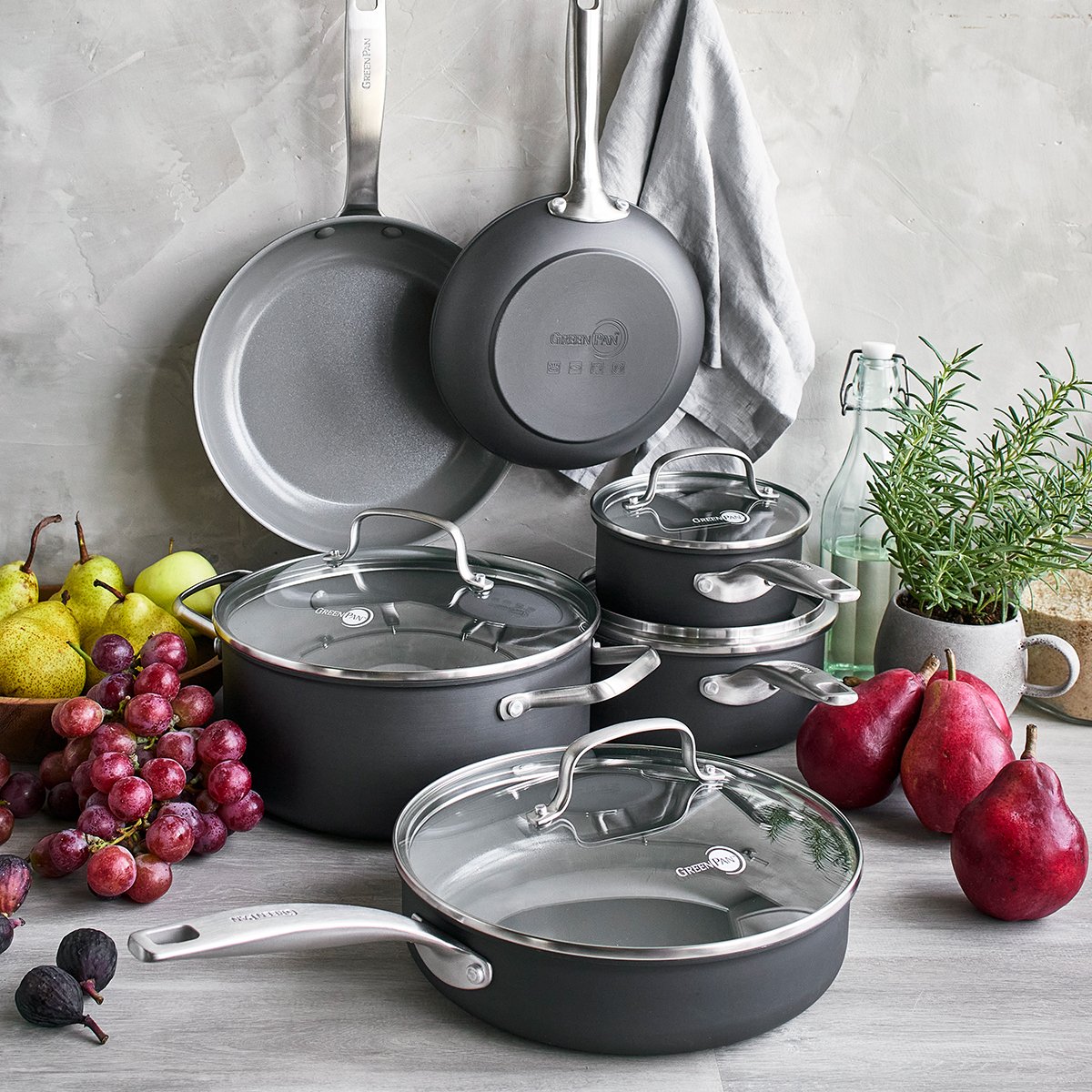 Credit: www.greenpan.us
Why are Things Sticking to My Greenpan?
If you are noticing that things are sticking to your GreenPan, it may be because the non-stick coating is wearing off. Over time, this can happen due to high heat or excess scrubbing when cleaning. If it's been a while since you purchased your pan or if you have noticed decreased performance in food not sliding off easily, then it is likely time for a new coat of non-stick coating.

You can purchase special products designed specifically for recoating pans like GreenPans and follow the instructions on the package for best results. Make sure to follow all safety measures provided by the manufacturer as well as taking extra precautions such as wearing gloves and using proper ventilation during application of these products. With a little bit of effort, you will have your GreenPan back up and running again so that nothing sticks!
What is the Greenpan Lawsuit About?
The GreenPan lawsuit has become a hot topic in the cooking community and beyond. The lawsuit was initiated by the consumer advocacy group, Consumer Watchdog, who filed a complaint against GreenPan alleging false and deceptive advertising for their ceramic non-stick cookware. According to the consumer advocacy group, GreenPan falsely claimed that its products were free from harmful chemicals such as PFOA (Perfluorooctanoic acid) and PTFE (Polytetrafluoroethylene).

The complaint also alleged that even though these materials are not present in their product lines, they still use other potentially dangerous compounds which could release toxic fumes when heated. In addition to this, it is argued that GreenPan fails to disclose this information on their website or packaging leading customers into believing that their cookware is safer than it actually is. As a result of the complaint, Consumer Watchdog has called for an investigation into possible violations of state law regarding false advertising claims made by companies such as GreenPan.
What is So Great About Greenpan?
GreenPan is one of the most popular and trusted cookware brands on the market. Their products are made using Thermolon ceramic non-stick technology, which allows you to use less oil while cooking and makes it easier to clean up afterwards. The pans also have a unique heating system that distributes heat evenly over its surface for perfect results each time.

Additionally, GreenPan's products are free of PFAS, PFOA, Lead and Cadmium so you can be sure your food is safe from toxins. Finally, their range of pots, pans and accessories come in an array of stylish colors and designs so you can find something that suits your kitchen décor perfectly! All these features make GreenPan a great choice for those who want healthy cooking without compromising on style or quality.
Does Bobby Flay Really Use Greenpan?
Bobby Flay is a famous American chef and television personality, renowned for his expertise in the kitchen. One of the most popular questions asked about him is whether or not he actually uses GreenPan in his cooking. The answer to this question is yes – Bobby Flay does indeed use GreenPan cookware!

He's been known to whip up some delicious meals with pans from the company, proving that they are more than just an average cookware brand. Not only that, but as one of America's top chefs, he also vouches for their quality and durability. Thanks to GreenPan technology, you can expect your food to be cooked evenly and consistently every time – no matter what type of dish you're creating!

So if you want the same results as Bobby Flay at home (and who doesn't?), then it looks like investing in a set of GreenPans may be worth it after all!
Conclusion
Greenpan cookware is a great option for anyone looking for an eco-friendly and quality cookware set. Not only are the pans made with healthy materials, they also provide excellent heat distribution and help to reduce energy consumption while cooking. With so many styles available, there is sure to be one that fits every kitchen's needs.

The reviews of this brand have been overwhelmingly positive, showing that customers are very happy with their purchase of Greenpan Cookware. All in all, it's clear why Greenpan Cookware has become such a popular choice among home cooks!