The Best Copper Cookware is a must-have if you're planning to prepare gourmet meals at home. This versatile and attractive cooking ware can be used on the stovetop, in the oven, or even on the grill.
Several brands make great cookware made of copper, including Mauviel, Made In, Ruffoni, Hestan, and Matfer Bourgeat. Each brand has a unique history, and each cookware has its own pros and cons.
Best Copper Cookware
Pans and sets that offer the best of style and function.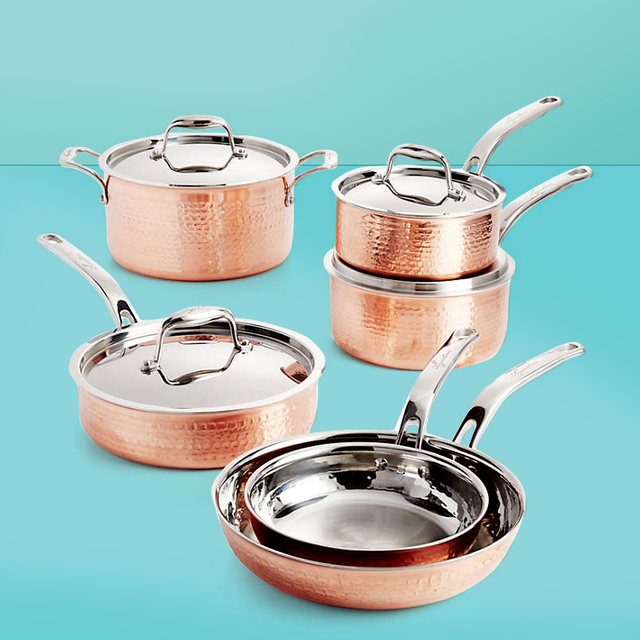 While a nonstick pan may make your job easier, the beauty of a copper pan is truly second to none — there's just something about it that looks special. But it's not all about aesthetics: Copper is highly functional, too, says Giulia Ruffoni, president of Ruffoni US, (and if anyone knows, it's her — her family has been making Italian copper cookware since 1931.) Ruffoni says copper responds to changes in heat quickly, and the tin-lined versions are low-stick because there's less porosity for food to get stuck into.
We tested more than 10 of the most highly rated copper cookware sets, inspecting each item for quality, assessing the overall aesthetic, and putting each pan through rigorous exercises to gauge functionality. We test things like heat distribution, boil times, the ability of the cookware to hold a simmer, how well the cookware resists scorching, and more. The following is an assortment of top-tested and popular copper cookware sets from brands we've tested:
BEST OVERALL COPPER COOKWARE
HESTAN
Though not entirely copper — it has five-ply bonded construction with a copper core sandwiched by two layers of aluminum and a copper and stainless steel exterior — testers call this Italian-made set "especially impressive." It's edged out competition in multiple rounds of testing, thanks in large part to its skillet.
This particular piece scored perfectly in heat distribution tests, because of a wide surface area (20% more than traditional skillets) that heats efficiently and evenly. All pieces also have comfortable handles and a rivetless design that's easy to clean, just like the other cookware lines in their brand. This set performed most similarly to a good stainless steel cookware set, which made it easier to use with less of a learning curve.
Great heat distribution
Large surface area for cooking
Easy to clean
BEST VALUE COPPER COOKWARE
Hammered Copper 10-Piece Cookware Set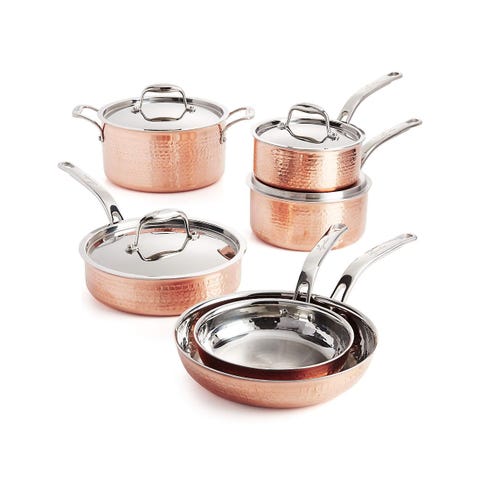 LAGOSTINA MARTELLATA
Lagostina Martellata makes an exquisite set at a much friendlier price than other copper cookware sets. But you won't sacrifice too much on quality by opting for a cheaper set: These copper pots and pans have the same stainless steel cooking surface as other Lagostina Martellata's stainless cookware we've tested.
They're excellent at browning sirloin steaks and simmering sauces. Unlike some other copper sets, the handles also stay nice and cool while cooking.
Great price
Hold a simmer
Sear well
Handles stay cool
EASIEST-TO-USE COPPER COOKWARE
Copper Core 7-Piece Cookware Set
ALL-CLAD
In our tests, this copper core scored tops for cook time and cleanability. The set has an important claim to fame: Out of all cookware sets tested in 2022; it had the fastest boil time (6 minutes and 40 seconds compared to the next quickest, which was 6 minutes 56 seconds), which translates into a quick cook time.
It also scored high on scorch tests — after simmering sauce for 30 seconds, there was no sauce stuck to the bottom of the pan and minimal sauce on the sides of the pan, which means easier cleaner at the end of a meal. Like other All-Clad cookware sets, these were nice and sturdy — they're sure to stand the test of time.
Heavy-duty
Fast boil time
Resists scorching
Handles stay cool
Rivets make cleaning more difficult
BEST HAMMERED COPPER COOKWARE
Ruffoni Symphonia Prima Stainless Steel Triply Copper Cookware Set/Pots and Pans Set
RUFFONI
If style is of utmost importance, consider this: One of our testers says "I can't stop staring at this set — it's so stunning." The pots and pans and the included wooden tools are both truly special pieces to add to your collection of cooking tools. But they're functional, too, perfect for foods like risotto that benefit from gentle cooking and stirring.
Though on the larger side, the pieces are delicate and tin-lined. (A copper set with fewer pieces and slightly smaller sizes is also available for purchase.) As such, they need to be treated with care, but have excellent heat efficiency and are relatively non-stick. Even if you're not a pro yet, you will be — the set comes with a pretty thorough user guide to give beginners the confidence they need to proceed. If there's any downside, it's that the handles get rather hot during cooking.
Gorgeous hammered finish
Comes with wooden cooking utensils
Includes a thorough user guide
BEST FRENCH-MADE COPPER COOKWARE
Copper Triply 5-Piece Cookware Set
MAUVIEL
This cookware set is mostly hand-crafted in Normandy, France, using traditional processes passed down through generations of copper makers. Today, the pans have a more modern three-layer construction — a stainless-steel interior, a heat-responsive aluminum core, and .5mm copper exterior — to conduct heat rapidly and uniformly.
You'll love the traditional look, but appreciate the 18/10 stainless-steel interior, since it won't react with food and makes cleanup easier. Though you may miss the traditional gold handles, our testers note that it's worth passing on those Mauviel sets, since they tend to get very hot during cooking.
Traditional aesthetic
Modern functionality
Rivets make cleaning more difficult
BEST COPPER COOKWARE FOR INDUCTION
PRIMA MATERA Conical Copper Stainless Steel Saute-Pan 11-Inch with lid
DE BUYER
Despite being one of the old-school makers of copper cookware, de Buyer is at the forefront of adapting the material for modern functionality. Though 90% copper (the other 10% is stainless steel), these pots and pans are outfitted with magnetic bottoms that provide induction compatibility.
No matter what sort of cooktop you're working on, the results are the same — the 2mm copper body heats rapidly and evenly, then cools just as quickly. This particular set also has easy-to-hold curved handles that stay cool to the touch.
Induction compatible
Heats quickly and evenly
Handles stay cool
Rivets make cleaning more difficult
BEST VINTAGE COPPER COOKWARE
Vintage Copper French Splayed Pans
COPPERMILL KITCHEN
If you have your heart set on vintage copper cookware, check out the Coppermill Kitchen. Owner Beth Sweeney sources and restores antique one-of-a-kind pieces crafted by European artisans.
While you won't get the same modern functionality as some other sets — induction compatibility or stainless cooking surfaces, for example — you will get an artful find with unique marks of craftsmanship and age that functions the way copper cookware was originally meant to.
One-of-a-kind finds
Original craftsmanship
Inconsistent pieces
No modern amenities
Best Copper Cookware Brands
The best copper cookware brands are designed with your needs in mind. They should be functional and long-lasting, and their sleek design will make your kitchen a more pleasant place to be in. However, you should also consider price before making a purchase. The best copper cookware can be quite expensive, so it's worth the money to invest in a higher-quality set. You should also consider what you need to prepare meals in your new cookware.
Matfer Bourgeaut: This French company has been around for two hundred years. They cater to professional kitchens, and bakeries, as well as cooking schools. They sell their copper cookware through restaurants and third-party sellers. It's an excellent choice for home cooks, too, since they are made with high-grade copper, which is more durable than most types of non-stick or aluminum pans. You can find the right size and style for your kitchen with the help of these brands.
Matfer Bourgeaut: This French company has been around for two centuries and is one of the best-known copper cookware brands. Their high-quality cooking tools are geared towards professional kitchens, bakeries, and cooking schools. Its D3 and D5 collections are excellent choices for the average home cook. These pieces feature a copper core to help them distribute heat more evenly. They also provide a nonstick surface for better food-coating results.
Best Copper cookware Made in USA
Copper cookware is one of the most popular cookware materials in the world. The high-quality materials used in copper cookware provide even heating and are ideal for cooking everything from sauces to searing meat. Many of these products also feature a nonstick interior and attractive handles. Most of them are sold in sets of six to eight pieces. The best set to buy is one that comes with at least six pieces. But, if you are unsure of what you need, you can also get a two- or three-piece set.
If you're looking for copper cookware with a beautiful appearance and excellent heating properties, consider investing in a set from a reputable brand. While these pieces may be expensive, they'll last for many years. Williams Sonoma is a great place to start. This line of cookware features nonstick, durable, and versatile pieces. It also has a glass lid, which helps seal in the flavors and nutrients while cooking.
If you're looking for a set that is both stylish and functional, consider the Hestan CopperBond line. This is one of the only brands compatible with induction cooktops. And since it's relatively cheap, it's an excellent choice for the average cook. Matfer Bourgeat is another high-quality brand that features affordable prices and excellent reviews. It's also a great option if you're looking for professional-grade copper cookware.
Best Copper Cookware in UK
Whether you're looking for a high-quality frying pan or a copper saucepan, you've come to the right place. These pots and pans offer superior heating and a striking appearance. Though copper is more expensive than other materials, it lasts much longer. As far as brands go, Williams Sonoma cookware is a top choice thanks to its useful range of pieces and durable construction. Here are the pros and cons of copper cookware:
The thickness of the copper is a key factor in determining the quality of the cookware. A good example of this is the thickness of the base. The best copper pots are generally less than three millimetres thick. Thicker copper pots are also heavier, making them more difficult to cook with. A good rule of thumb is to avoid anything thicker than 2.5mm copper. However, companies sometimes skimp on the thickness in order to reduce their prices.
The best copper cookware in the UK is one that features a high level of durability. As with any material, copper needs special care. It needs to be hand-washed, and a liner is recommended. The liner may be ceramic or stainless steel. It not only adds to the non-stick surface but also ensures food safety. Purchasing a set of authentic copper cookware can be costly, but it will last for years if properly cared for.
Best Copper Cookware Cleaner
One of the best copper cleaners available is ketchup. Whether you use it as a scrub or a polish, a smear of lemon juice on your copper can restore the shine to your copper pans. If you're worried about the acidity of ketchup, you can also try a solution of ketchup and kosher salt. The lemon and salt solution will remove oxidized food particles and bring back the original color of your copper pans.
A common household ingredient that works well on copper is vinegar. The abrasive effect of vinegar is ideal for cleaning copper cookware. Combine three tablespoons of salt with two cups of vinegar. White vinegar has higher acidic properties, so you should use it instead of regular vinegar. Mix the two together and rub the mixture into the tarnished pans. This method is a great first step for cleaning copper.
Baking soda can also be used to clean copper. The baking soda will remove any stubborn stains from the surface of your pans. Add a teaspoon of salt to three cups of water and scrub the copper thoroughly. The salt will work to prevent tarnish and remove any traces of bacteria. If you have acidic fruit, you can also scrub the pans by using the vinegar and salt combination. Alternatively, you can buy a good brand of baking soda and salt and apply it directly to your copper pots.
Best Copper Cookware Wirecutter
If you have a fancy dinner party coming up, copper cookware may be the perfect option. These pots and pans will heat evenly and quickly. As a bonus, they don't require as much heat as other metals. If you are using non-stick cookware, be sure to avoid high heat, which can damage the non-stick lining. For a lower-priced alternative, try finding vintage copper cookware.
A new company, Made In, aims to bring you the best copper cookware on the market. The company's co-founder has over 100 years of experience in the kitchen supply industry and has partnered with several generations of French manufacturers to create the highest quality copper cookware. Though this isn't the cheapest option, it's the most affordable. The best copper cookware sets can last for generations. With such a variety of pieces, you can find the perfect set for any occasion.
The Best Copper Cookware is not easy to choose from the large selection of options on the market. There are different styles and types of copper cookware that will suit your needs. In general, the best copper skillets are those made of solid copper. Those with thicker walls will be more insulated and durable. If you're on a tight budget, a copper set will cost you a little more than a stainless steel one, but you'll be cooking in style for many years to come.
Best Copper Cookware Reviews
For those looking for the best copper cookware, the thickness of the copper is crucial. A good set should have a minimum of 2mm of copper. Anything less than this will probably tear or damage over time. Look for thicker layers of metal, which are more durable and provide more structure. This kind of copper cookware is perfect for all types of stoves and is an investment. However, if you are on a budget, stainless steel may be a better option.
Although copper cookware is expensive, it is worth the money. A good piece of cookware will last for years. If you are on a budget, you can find copper set for the most affordable price. Otherwise, you can choose a set that's compatible with your kitchen. Whether you're cooking for a small family or a large group of people, copper cookware is a good choice for any kitchen.
Copper pans come in a variety of colors and finishes. There are smooth and hammered varieties available. The hammered look was once associated with quality craftsmanship. Nowadays, you can find pure copper pots and pans. If you're not sure what you'd prefer, you can also choose a pan that's colored copper for that rustic look. These types of cookware have the same benefits as copper but require less maintenance.
What to know about copper cookware before buying

✔️ It's pricey: Copper cookware is not cheap — in fact, it's very, very expensive. (Think of it as a true investment.) While many cheaper sets may be perfectly suitable pieces of cookware, most aren't made of true copper; they're "copper-inspired," meaning they're just made to look like copper. Instead, our pros suggest building your set one piece at a time with items like the Ruffoni Historia Hammered Copper Chef's Pan or the Mauviel Copper Sugar Pot that are both ideal for gentle, responsive cooking.
✔️ The lining material matters: Traditionally, copper is lined with tin. Because tin is malleable and melts easily, it binds well with the copper. Plus, it's non-reactive and low-stick, making it ideal for stickier things like eggs. But because it has a relatively low melting point, it wears more easily than other liners, like stainless steel. Stainless isn't without its own drawbacks, though. Stainless steel doesn't conduct heat as well, which counteracts some of the function of the copper, plus can delaminate over time. There are also options with copper cores — a marriage between efficiency and convenience — but these are often pricey pans with very small amounts of true copper.
✔️ It's a great conductor of heat: Because copper heats quickly and evenly, it's great for searing and sauteing without hot spots and burning, but be aware that because it's so temperature-responsive, it can quickly overheat.
✔️ It's tricky to care for: Cleaning isn't as simple as scouring with soap. Because you should never put copper cookware in the dishwasher, these types of pots and pan require a little more TLC. For best results, you'll need a quality product, like Wright's Copper Cream. (Ketchup works in a pinch!) Then, rinse the cookware in warm water, rub the product on using the included sponge or a clean cloth, then rinse again before buffing with a clean cloth.
✔️ Consider the pieces in the set: In general, when shopping for cookware, look for a set with at least one skillet that's about 10 or 11 inches in diameter, a large stockpot for pasta, and a medium-sized saucepan. Anything else is a bonus. When it comes to copper, you may want to start with a smaller tin-lined skillet for eggs and a larger one for fish and other delicate items that require a larger cooking surface.
FAQs
What are the disadvantages of copper cookware?
Copper is one of the best materials for cooking. It heats quickly and evenly. Because it conducts heat well, you can use a lower temperature in your cooking. Keep in mind that medium-high heat will melt the soft metal lining of the pan. Therefore, you should never use this cookware for baking. Nonetheless, this material is a popular choice among chefs. Here are some disadvantages of copper cookware.
What copper pans do chefs use?
What copper pans do chefs use? You might be surprised to learn that a French chef cooks with copper, and you may want to learn more about these pans, which are still used in some homes and restaurants. While copper is a reactive metal, it doesn't release toxins, and it stays warmer longer than other materials. This makes copper cookware a great choice for the kitchen. Here's what you should know about copper cookware.
Is Mauviel the best copper cookware?
While copper is one of the most popular metals for kitchenware, you should know that copper is also the most reactive. The surface of a copper pan will react to changes in temperature. Therefore, if you plan to use a Mauviel copper pan, it is best to stick to foods that have a high sugar and acid content. Alternatively, you can choose a stainless steel pan if you are afraid of the reaction of copper.
Is copper toxic cookware?
The first question that arises is, "Is copper toxic cookware?" This question should be answered with a resounding "yes." While it may be possible to find some pieces that are free of the element, the fact remains that cooking on copper surfaces can lead to increased exposure to copper, especially if it is acidic.
Although copper toxicity is not as common as many people think, it is something to consider. The recommended daily allowance for copper is 900 mcg for most adults, and slightly more for lactating and pregnant women.
Final Thoughts
When it comes to choosing the Best Copper Cookware, the choice isn't that hard to make. The brilliance of copper will definitely elevate your kitchen's aesthetic appeal, but the real benefit has nothing to do with looks.
The real benefit of copper is its thermal efficiency, which means it enables heat to easily and efficiently transfer throughout the pan. As a result, you'll find yourself wanting to spend more time cooking with copper.